In the wake of the coronavirus pandemic, healthcare organizations must be nimble in identifying needs and be able to pivot to meet those needs.
Now that the crisis phase of the pandemic has passed, health systems and hospitals need to focus on new staffing models and deploying technology, says Allan S. Philp Jr., MD, chief medical officer of Allegheny General Hospital (AGH) in Pittsburgh.
Philp has been CMO of AGH, which is a member of Allegheny Health Network (AHN), since June 2022. He has been chief quality officer of the AHN Surgical Institute since March 2020. His previous experience includes serving as a surgeon for the U.S. military.
HealthLeaders recently talked with Philp about a range of issues, including the primary elements of quality in surgery, how clinicians are involved in organizational administration at AGH, and the differences between military and civilian medicine. The following transcript of that conversation has been edited lightly for brevity and clarity.
HealthLeaders: What are the primary challenges of serving as CMO of Allegheny General Hospital?
Allan S. Philp Jr.: The challenges we have faced are similar to challenges at other hospitals. It has mostly been in regard to resources. Healthcare was a little bit challenging pre-pandemic, and it has become more challenging during the pandemic and post-pandemic largely because of staffing problems and supply chain problems.
One of the ways we have been fortunate is because we have a large network. We have been able to function as a network, which means we can shift resources. For example, we have an internal staffing team, so we can move staffing resources around to meet the needs and do not have to limit access for patients. At the end of the day, it is about getting people the care that they need.
The other piece is figuring out how to prioritize. At my level, that requires strong relationships with my colleagues. We cannot do everything all the time—nobody has the resources to do that, so we must have our priorities in the right order for patients to get care. Being able to work with my colleagues to think outside of the box on solutions to challenges is valuable.
HL: Now that the crisis phase of the coronavirus pandemic has passed, what are the primary clinical care challenges at Allegheny General Hospital?
Philp: The COVID pandemic made us realize that business as usual is no longer a successful model. It is no longer the best practice. We have to be more nimble than we used to be in terms of recognizing what the needs are and pivoting to be able to meet those needs. We need new models for staffing. We need to leverage technology and electronic medical records. Then, we cannot lose track of the fact that medicine is pushing forward every day.
When we look at the best treatment for a condition, if you settle for the best treatment when you trained, that is fine if you trained six months ago. It becomes less fine at three years, and it is not at all fine at 15 years. You must be scrutinizing the whole field all the time. You need to ask, "How can we do a procedure minimally invasively? How can we provide care in a way that has a faster recovery or lower risk?"
We have been fortunate that we have been able to stay on top of medical science during the pandemic and post-pandemic. For example, in the past year we have opened a hybrid operating room, which is like a combination of an interventional radiology suite and a conventional operating room. This allows us to do things like minimally invasive valve repairs and advanced vascular procedures.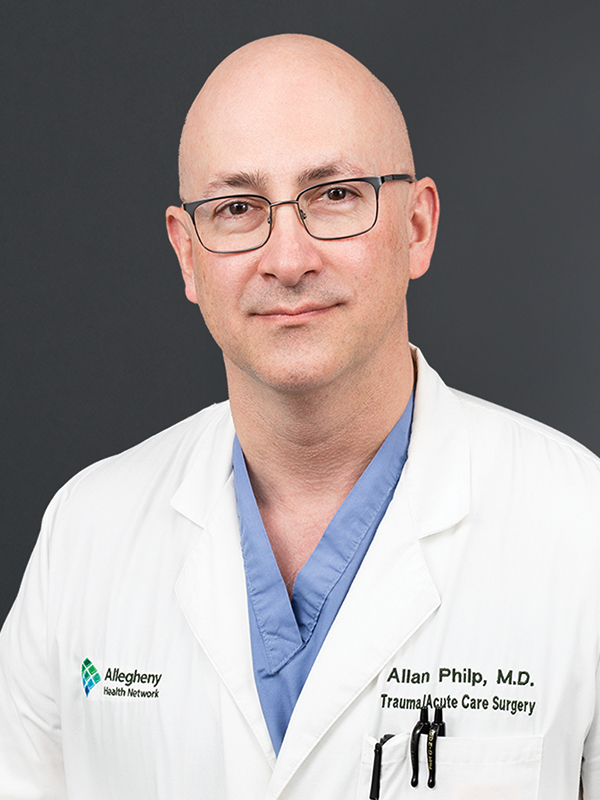 Allan S. Philp Jr., MD, chief medical officer of Allegheny General Hospital. Photo courtesy of Allegheny Health Network.
HL: You serve as chief quality officer of the AHN Surgical Institute. What are the main elements of promoting quality in surgical care?
Philp: There are three parts to that. First, you must look critically at your outcomes. That means having meaningful data. There is a tendency for any healthcare provider to say, "We are working very hard. We are taking care of patients. I'm confident our care is fantastic." But if you do not look critically at your outcomes, you will not see opportunities to improve.
Second, once you have looked at your outcomes, you need to bring together the whole team to not only involve them in the solutions but also solicit the solutions from them. When you look at the people who are the boots on the ground, they have fantastic ideas about addressing challenges and figuring out which challenges to address.
The third piece is not living in a bubble. There is great healthcare being provided across the country, and reaching out to colleagues at other facilities is critical. Care should be agnostic of whatever the sign over the door says. We should be able to collectively determine best practices and find innovative ways to address challenges.
HL: How are clinicians involved in organizational administration at Allegheny General Hospital?
Philp: We are a clinician-led organization. There are a lot of places that give lip service to that, and not as many places that actually do it. For example, our president is a practicing hospitalist. I am active in our trauma care. Our chief nursing officer spends an enormous amount of time on the surgical and medical floors to understand what the needs are. So, we are provider driven, which is important because it keeps the patient and their family at the center of everything.
If you look at the way that changes are implemented, it flows through clinical committees. These are not just doctors. For example, our critical care committee that is involved in issues such as providing better respiratory care includes doctors, nurses, and respiratory therapists all working collaboratively—and you have senior people and more junior people so that you have input from all of those levels, and you can mentor the junior staff.
You also need to be realistic and savvy, with good business partners such as financial officers and operating officers. I am a capable trauma surgeon, but if we had to do a business plan for a $200 million addition to the hospital, we would need someone who lives in that world as well. The partnership between our clinical leaders, who are driving what the need is and what we need for our patients, and our operational leaders, who need to translate what we need to do to provide the best care for our community, allows us to draw up plans for providing world-class care.
HL: You have a clinical background in surgery. How has this clinical background helped prepare you to serve in leadership roles such as CMO?
Philp: It is helpful that I have been working in trauma specifically. If you look at the care of a trauma patient, it crosses a bunch of different areas of the hospital and different specialties. For example, we interact with emergency medical services, the emergency department, the blood bank, the operating room, and specialties such as orthopedics and neurosurgery. To be able to do that kind of work, you must have a collaborative approach. When I moved on to do the chief medical officer role, it was like trauma care on a larger scale.
HL: You led critical care teams in Afghanistan and Iraq for the U.S. military. What are the main differences between providing critical care in the military setting versus providing critical care in civilian hospitals?
Philp: The resources can be different. If you are at a military hospital, it is similar to being at a civilian hospital. On the other hand, if you are with a five-member military team and working out of backpacks, you have less resources. So, the resources vary from place to place and time to time in the military.
It has been valuable to have a military medicine background. The transition to the pandemic was easier for me. You are used to working with limited resources in the military, and applying those skills during the pandemic was helpful.
Related: The Exec: Workforce Shortages, Individualized Care, AI, Data Utilization Key Elements of 'New Normal'
Christopher Cheney is the senior clinical care​ editor at HealthLeaders.
---
KEY TAKEAWAYS
Allegheny General Hospital benefits from being able to share resources with other facilities operated by Allegheny Health Network.
The main elements of promoting quality in surgical care include scrutinizing outcomes, enlisting the whole team in developing solutions, and drawing on clinical expertise from across the country.
Allegheny General Hospital is a clinician-led organization, with a practicing hospitalist serving as president and clinical committees managing how changes are implemented.