AdventHealth's Neil Finkler predicts healthcare workforce shortages will spur adoption of technology such as artificial intelligence and machine learning.
The shift of medical services from the hospital setting to the ambulatory setting and the home will accelerate in 2023, the chief clinical officer of AdventHealth's Central Florida Division predicts.
Neil Finkler, MD, became AdventHealth's chief clinical officer for the six-county region in 2021. In 1992, he joined AdventHealth Orlando, where he founded the gynecologic oncology program and fellowship program. Before taking on his current role, he was senior vice president and chief medical officer for AdventHealth Orlando's acute care services.
HealthLeaders recently talked with Finkler about a range of issues, including clinical care predictions for 2023, the challenges he faces as a chief clinical officer, physician burnout, and workforce shortages. The transcript of that conversation below has been edited for brevity and clarity.
HealthLeaders: What predictions do you have for clinical care in 2023?
Neil Finkler: We will continue to see an out-migration of hospital-based procedures that are transitioning to outpatient settings, specifically ambulatory surgery centers.
The hospital at home models will continue to grow nationwide next year. Health systems are looking at how they can care for chronic conditions in the home. They are also looking at identifying the triggers when a patient is in trouble at home, and they are looking at how they get the appropriate care at home. If you think about populations at risk, where we as healthcare providers will be at full risk, we need to put the appropriate patient in the appropriate setting at the appropriate time. The least costly setting remains taking care of the patient at home. Many health systems have been dabbling with hospital at home, and we will see more innovative and creative models as we move forward.
Another thing we are going to see, and we are beginning to see it in the post-pandemic world, is that the nontraditional healthcare players including retailers such as Walmart and the Amazons of the world are going to start expanding beyond what they have done in healthcare so far. We are going to see them do blood tests, vaccinations, and other medical services that have traditionally been delivered in the hospital setting.
In our market, Walmart has been opening health clinics. They have behavioral health. They are adding ophthalmologic services, and they are putting services in one easy place for the consumer and making it an affordable option.
We are also going to see a continued look at how we leverage technology to automate tasks to alleviate our workforce restraints. This includes artificial intelligence, machine learning, and remote monitoring. For example, we can use this technology to determine who is at risk for a readmission after a coronary bypass.
We can use artificial intelligence and machine learning to help us identify whom we need to put resources around once they get discharged, so that their readmission rates are lower and their utilization rates in the emergency department are lower, which will give us more inpatient capacity.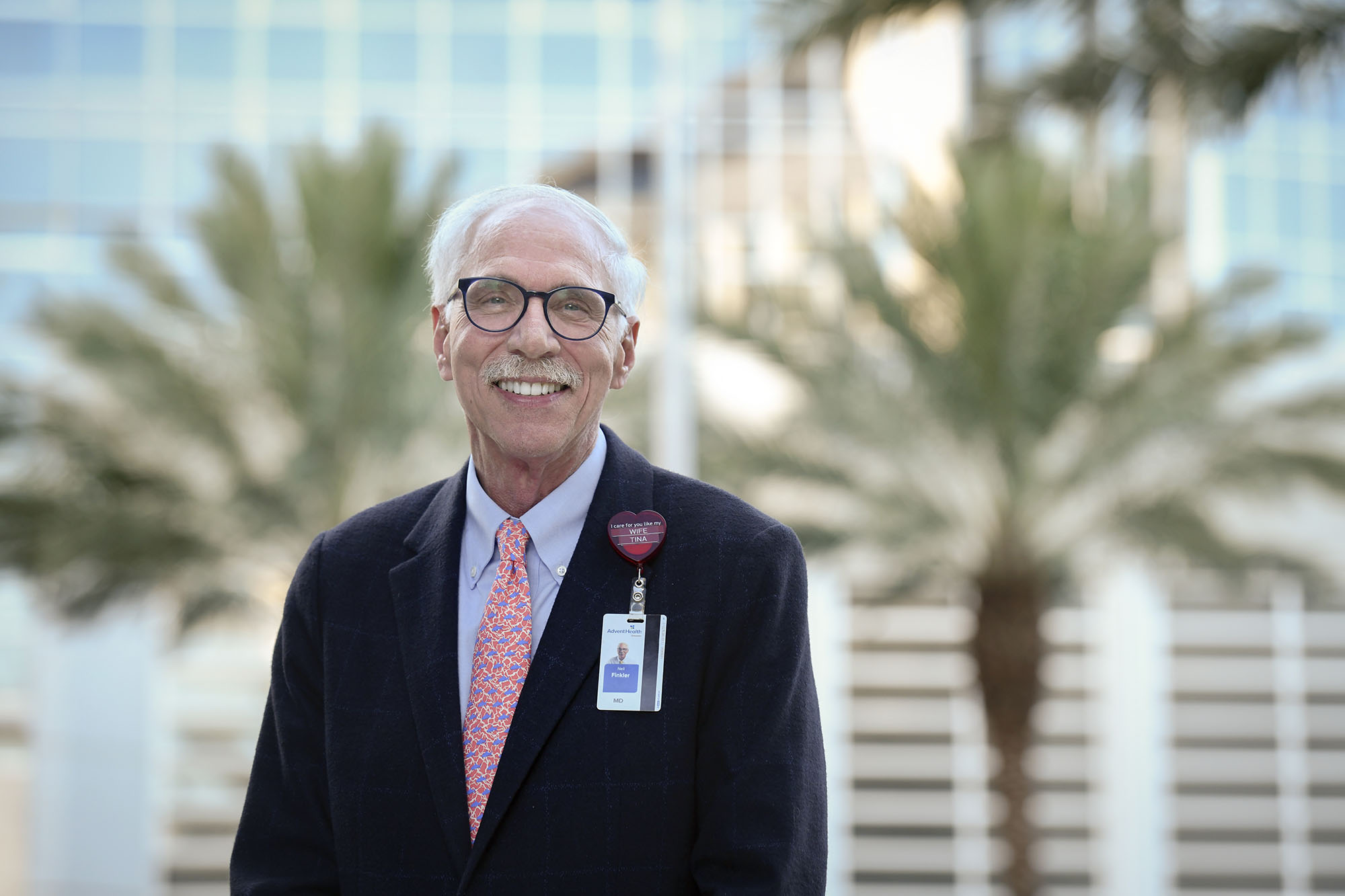 Neil Finkler, MD, chief clinical officer of AdventHealth's Central Florida Division. Photo courtesy of AdventHealth.
HL: What are the primary challenges of serving as the chief clinical officer of the Central Florida Division of AdventHealth?
Finkler: Before the pandemic, we were clearly on a pathway of top performance and performance improvement from a quality standpoint. Our organization defines clinical excellence as being a Centers for Medicare & Medicaid Services 5-star and Leapfrog A. We had achieved those goals in the early days of the pandemic, but we have slipped, particularly in the CMS star rating—we were a 5 star and now we are a 4 star.
This slippage has clearly been created by the pandemic, with things like workforce shortages, burnout, some financial instability, and supply chain constraints. All of this has shifted our focus and made it harder to keep up with the processes that we know are needed to maintain top quality and safety. One of the things we are doing as we emerge from the pandemic is putting our efforts back on those processes that we know work so we can get back to a CMS 5-star rating. The particular areas that we struggle with are hospital-acquired infections as well as readmissions.
Another challenge that we have is the workforce. As we look forward into the future, we know that our population here is growing and we know that the population in Central Florida is aging. In addition, chronic diseases such as diabetes, chronic obstructive pulmonary disease, and cardiovascular disease continue to increase. This increase in demand for healthcare services while we experience workforce shortages is going to challenge us.
Another challenge is the value transformation, where we are looking to improve the value proposition for both patients and payers. The question is, how do we improve quality while decreasing cost? Both the payers and the patients continue to expect reductions in waste and for us to cut the costs of healthcare.
HL: What is the status of physician burnout at AdventHealth?
Finkler: It clearly exists. Our workforce, not just physicians but also our nursing workforce and other members of the clinical workforce, has not yet fully recovered from the impact of the pandemic. Burnout remains prevalent, in many cases unrecognized. Even though COVID-19 admissions have decreased, the hospitals are still full and the clinical demand on our physicians continues at an all-time high. All of this contributes to physician burnout and dissatisfaction.
What are we doing to address burnout? The number one factor is to recognize it—to openly admit that it does exist and to advance a culture where it is OK for a physician to admit that they are experiencing burnout, talk about it, and ask for help. We have robust physician support services. We have a robust physician wellness program. We have a physician lead of physician wellness. All of these programs deal with physician burnout. We believe that openly attacking the issue and providing the physicians with tools is important.
The culture work is crucial. We need a culture of respect. We need to determine what a culture of professionalism looks like within a healthcare environment. We need to determine what teamwork looks like. When I was trained, we were not trained in teams, and the reality is that we now know that teams are an effective way of dealing with things including burnout.
HL: What are your primary clinical challenges now that the crisis phase of the pandemic has passed?
Finkler: We need to refocus on hospital-acquired infections such as central line–associated bloodstream infections and catheter-associated urinary tract infections. There are factors that have increased these infections during the pandemic such as new healthcare workers who do not understand the importance of the processes that were in place to keep these infections under control. As we enter a post-pandemic world, we are reteaching and restressing the importance of the processes that got us to low hospital-acquired infection rates.
Another area of focus is length of stay. We have watched our length of stay creep up. There are several reasons this has happened, and as we are pressured from both a workforce and capacity standpoint, we are going to have to put a heavy focus on length of stay. Within our institution, we have stood up a "mission control" that meets several times weekly to look at length of stay. There are lengths of stays that we will have trouble controlling—some of the outlier lengths of stays that may be due to unavailability of skilled nursing facility beds or long-term assisted care facility beds. You cannot solve those issues overnight.
There are things we can do to lower length of stay. We can expedite the discharge process. We can do what needs to be done during a hospitalization, then schedule other things that would be nice to have but not necessary to have as an outpatient service.
HL: What kind of workforce shortages are you experiencing at AdventHealth?
Finkler: We have workforce shortages not only in the nursing area but also in other disciplines, including pharmacy, radiology, laboratory technicians, and certified registered nurse anesthetists. It is important for everybody to recognize that the shortages do not stop in the nonphysician side—we are seeing physician shortages in several specialties.
HL: What are the primary efforts you have in place to address workforce shortages?
Finkler: The first thing we have done as an organization is taken a step back and said, "We understand that the pay must be competitive." In the pre-pandemic era, we would do market surveys every year or every other year. Now, we need to conduct market surveys more frequently. What was competitive a week ago may not be competitive four weeks from now. We are making sure that we are paying at the top of the market.
However, it is not just pay that is contributing to workforce shortages. It is also about benefits.
I am proud of our nursing innovation and workforce strategies that have helped stem the tide. We have gone from 3% turnover per month down to 1% per month. Things like working in a team model have helped.
We also are working on virtual nursing models. We recognize that we have a paucity of experienced nurses. Many of our nurses are young—many are graduate nurses. They do not have an enormous amount of experience, and they do not have a seasoned nurse to turn to on the floor. So, we have been working with experienced nurses in a virtual nurse model where they can cover several units in a hospital. They help the nurses on the floor with problems and questions, and they can do work such as discharges.
We have told our nurses if they want to go back to school to continue their education, we will pay for it, and they will be debt free. We also have been providing nurses more flexibility in scheduling. So, we are taking a proactive approach to the nursing shortage.
Christopher Cheney is the senior clinical care​ editor at HealthLeaders.
---
KEY TAKEAWAYS
Health systems need to address slippage in quality that occurred during the coronavirus pandemic.
In addressing physician burnout, health systems should acknowledge the problem and foster a culture where physicians can admit they have a problem and seek help.
To address workforce shortages, health systems should survey the market more than annually and offer compensation at the top of the market.