One patient safety initiative at Sentara Northern Virginia Medical Center has been to establish a masking protocol in the wake of the coronavirus pandemic.
Patient safety at hospitals is not only a concern for clinical staff, but also for other team members such as environmental services and facilities management, the chief medical officer (CMO) of Sentara Northern Virginia Medical Center says.
Alice Tang, DO, MPH, MBA, has been CMO of the Woodbridge, Virginia-based hospital since August 2021. She has been a practicing emergency medicine physician at Norfolk, Virginia-based Sentara Health since March 2017. Tang's leadership experience includes serving as chairman of the Emergency Medicine Department at Sentara Northern Virginia Medical Center.
HealthLeaders recently talked with Tang about a range of issues, including her top challenges as CMO, patient safety, and care quality. The following transcript of that conversation has been edited for clarity and brevity.
HealthLeaders: What are the primary challenges of serving as CMO of Sentara Northern Virginia Medical Center?
Alice Tang: Sentara is a large health system in the Mid-Atlantic and Southeast regions. The health system includes 12 hospitals in Virginia and North Carolina. Sentara Northern Virginia Medical Center is the northern-most site. It is a 183-bed hospital that provides a range of healthcare services, including emergency care, surgical specialty services, and women's health services.
One challenge is matching the medical staff to care for our patients given the constantly evolving healthcare landscape. Now more than ever, there are many ways to consume healthcare ranging from traditional hospital-based care to telemedicine to retail clinics. So, it is important to be aware of how the healthcare environment is changing for our patients and for our healthcare workers. You need to understand patients as consumers.
Equally important is to monitor the implications of these changes for the practices of our medical staff. Establishing and maintaining strong connections with key stakeholders is important. You need to put all the pieces of the puzzle together. You need to find a strategy to meet the patients and the healthcare providers where they are.
Currently, we are on a transformation journey to find ways to provide healthcare that is seamless, personal, and simple, so we can bridge healthcare gaps in our community.
Another challenge has been to promote retention and recruitment efforts, especially after the pandemic, which has changed the employment landscape. With increased burnout among healthcare workers and market competition, we recognize that efforts to retain employees are of high importance. For example, in 2022 we implemented a 5% pay increase, and we added enhanced benefits such as increased paid time off, paid parental leave, and increased tuition reimbursement.
HL: How do you rise to the challenge of bridging healthcare gaps and keeping pace with changes in the healthcare environment?
Tang: We need to be aware of healthcare market intel and use our resources to address where we can impact healthcare the most. For example, we need to identify key social determinants of health and how they impact our community and patients receiving healthcare and accessing healthcare. We need to focus on those key, high-impact items, then direct efforts to target those social determinants of health.
HL: You became CMO of the medical center during the coronavirus pandemic in 2021. What were your main learnings from this experience?
Tang: I learned that healthcare workers are resilient and that their dedication to provide the best care to patients superseded any fear of the virus or fear caused by confusion surrounding prevention and treatment guidelines that changed constantly. Our healthcare providers worked through the uncertainty and put their health at risk during the pandemic. However, they put those fears aside to come to work every day and stay late on many occasions to care for their patients.
I also learned how the pandemic has changed how patients access healthcare, especially with telemedicine. Even though the worst of the pandemic is over, we have learnings such as telemedicine to increase access for patients. Telemedicine is a practice that is here to stay.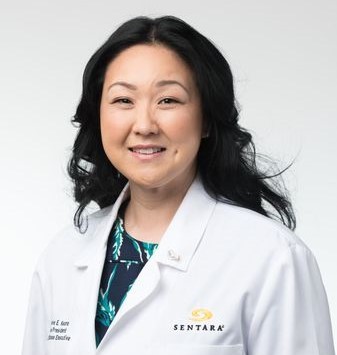 Alice Tang, DO, MPH, MBA, chief medical officer of Sentara Northern Virginia Medical Center. Photo courtesy of Sentara Health.
HL: What is your approach to patient safety at the medical center?
Tang: Patient safety requires a team approach. Measures such as hand hygiene and sepsis management take every healthcare provider and team member to prioritize the safety of patients in every daily task. This responsibility is not limited to our clinical staff—it includes other team members such as environmental services and facilities management. Every job and every team member contributes to maintaining patient safety.
HL: Give an example of a patient safety initiative at the medical center since you became CMO.
Tang: Related to the pandemic and coming out of the pandemic, we have transitioned practices that were pandemic-centric to keep patients and employees safe. We have transitioned from wearing a mask at all times in clinical settings to directing our patients and staff on when to wear a mask. In the very beginning of the pandemic, mask management was confusing, and it evolved. Now, it is at a place where patients, family members, and staff members feel safe.
The current protocol for masking is to observe personal protective equipment precautions such as wearing a mask if a patient is receiving an aerosolizing procedure. Masks are required when patients and staff members are in clinical areas where they are at risk for respiratory droplets. That is not limited to COVID patients—it applies to patients with the flu, pneumonia, and other respiratory illnesses.
HL: What is your approach to quality at the medical center?
Tang: The main approach to driving quality is education and messaging the "why" and clinical importance for each quality initiative. This approach can help team members become knowledgeable about quality and be able to share about quality with patients and other team members on our various clinical quality efforts. This approach also allows us to meaningfully execute the things that are needed to improve quality.
For example, sepsis management has been important at Sentara over the past year. We have been focusing on the front-end care such as early goal-directed therapies otherwise known as the SEP-1 bundle, which has been escalated in priority and importance in our health system. We have increased our SEP-1 bundle compliance and have experienced a decrease in sepsis mortality. That took a lot of education about sepsis, about the bundle, and about how to effectively implement the bundle.
There is a constant commitment to educate our team members about quality initiatives through different channels. We use methods such as computer-based training, daily huddles, and simulations. We focus on the "why" and how to execute these initiatives.
HL: What advice would you offer to other female physicians who might be interested in top administrative roles such as CMO?
Tang: My advice would be to not be afraid and to know your purpose. Knowing your purpose, even as a clinician, helps drive advocacy and high standards for patients. Having the courage to provide the best care for your patients and recruiting help from your team to do so is not always easy, especially in an administrative role. Many female physicians and advanced practice providers are comfortable functioning within their clinical scope, and clinical knowledge can be powerful in driving change at an administrative level. But if a clinician has a purpose to drive positive change at a local level or beyond, I encourage them to pursue a career in administration and challenge themselves to make changes materialize.
Female physicians do not have a huge footprint in administration nationwide, but we definitely have the voice and the ability to serve in administration.
HL: How can female physicians develop the voice and abilities to serve in roles such as CMO?
Tang: You need to seek out leadership opportunities at multiple levels, whether it is at the departmental level, hospital level, or health system level. That is what I have done. It is also vital for female physicians and advanced practice providers to have a sponsor who is either outside of their facility or inside their facility. A sponsor not only fosters and encourages opportunities for leadership but also can help with facilitating those opportunities.
Related: The Exec: What It Takes to Be an Effective Physician Leader
Christopher Cheney is the senior clinical care​ editor at HealthLeaders.
---
KEY TAKEAWAYS
Healthcare worker retention is a priority at Sentara Northern Virginia Medical Center. In 2022, the hospital implemented a 5% pay increase and added enhanced benefits such as increased paid time off.
The CMO of the hospital says her main approach to driving quality is education and messaging the "why" and clinical importance for each quality initiative.
She says her advice for other female physicians considering administrative roles is to not be afraid and to know your purpose.