Physicians need to be able to trust the people who are leading them, chief clinical officer says.
Transparency and creating an environment that promotes autonomy, mastery, and purpose are essential in physician engagement, the chief clinical officer of Mercy Health-Lima says.
Matthew Owens, MD, chief clinical officer of Mercy Health-Lima, is a practicing physician specializing in physical medicine and rehabilitation. Mercy Health-Lima, part of Bon Secours Mercy Health, is anchored by St. Rita's Medical Center in Lima, Ohio.
HealthLeaders recently talked with Owens about a range of issues, including physician engagement, quality improvement initiatives, and patient experience. The following transcript of that conversation has been edited for clarity and brevity.
HealthLeaders: You have oversight of Mercy Health Physicians-Lima. What are the keys to success in supervising a physician group?
Matthew Owens: Leading a large medical group is an honor I do not take lightly. There are many pressures that our physicians and our advanced practice clinicians face every day while they are delivering care.
Maintaining an engaged clinician workforce is probably the most critical factor in achieving success in care delivery. If I do not have a workforce that is engaged in the work they are doing each day, it is difficult to do the work that the medical group is required to do.
HL: What are the primary elements of physician engagement?
Owens: Physicians are a highly motivated, competitive, and self-driven group of people. Most will perform at a high level if they are provided with the environment to allow them to excel. One of the most critical elements to physician engagement is transparency in leadership. Physicians need to be able to trust the people who are leading them. I try to be highly transparent—sometimes to a fault. I want to allow our physicians to feel engaged with the plans of the organization.
Beyond transparency and thinking about factors that promote strong engagement, I often refer to three major principles that I picked up from a book called Drive by Daniel Pink. In that book, Pink says people intrinsically want to do things that matter, and there are three principles that are important to allow people to shine. You need to grant them autonomy, mastery, and purpose. When I am thinking about leading physicians, if I can be transparent, then constantly work to give physicians an environment that promotes autonomy, mastery, and purpose, I know that the physician colleagues that I lead will perform at a high level.
HL: What are the primary challenges of serving as a chief clinical officer?
Owens: As we emerge from the stressors of the pandemic, I am struck by the pace of change and the pressures to manage that change. So much of what we do feels different than pre-pandemic.
We have an evolving set of challenges in healthcare. There are workforce shortages. There are mobility challenges in the workforce. There are inflationary pressures. There are regulatory burdens. And, frankly, there is a lot of gamesmanship among our nation's insurance providers. Those are all factors that immediately come to mind that impact the daily delivery of care to those that we serve.
HL: How are you rising to these challenges?
Owens: We are having to think about doing things in a different way than we used to in the past. We look toward different strategies for staff recruitment—it is not just the recruitment of physicians, it is the recruitment of the care teams surrounding physicians. Candidates are looking for something a little bit different than before the pandemic, and if we do not adapt to that then we are going to see ourselves falling behind. Once they are here, we must figure out what the key elements are to retain that workforce.
Healthcare organizations in this country are in a difficult spot. The inflationary pressures are certainly apparent as in any industry, but unfortunately reimbursement changes are not keeping up with the inflationary pressures. So, we must be wise about our expenses—we must manage those expenses tightly.
Regarding regulatory burdens, there are a lot of new regulations being released on a regular basis, particularly during the pandemic. It has complicated our ability to be efficient with how we are using our workforce—we have a lot of pressures from various groups to try to live up to the standards they have set.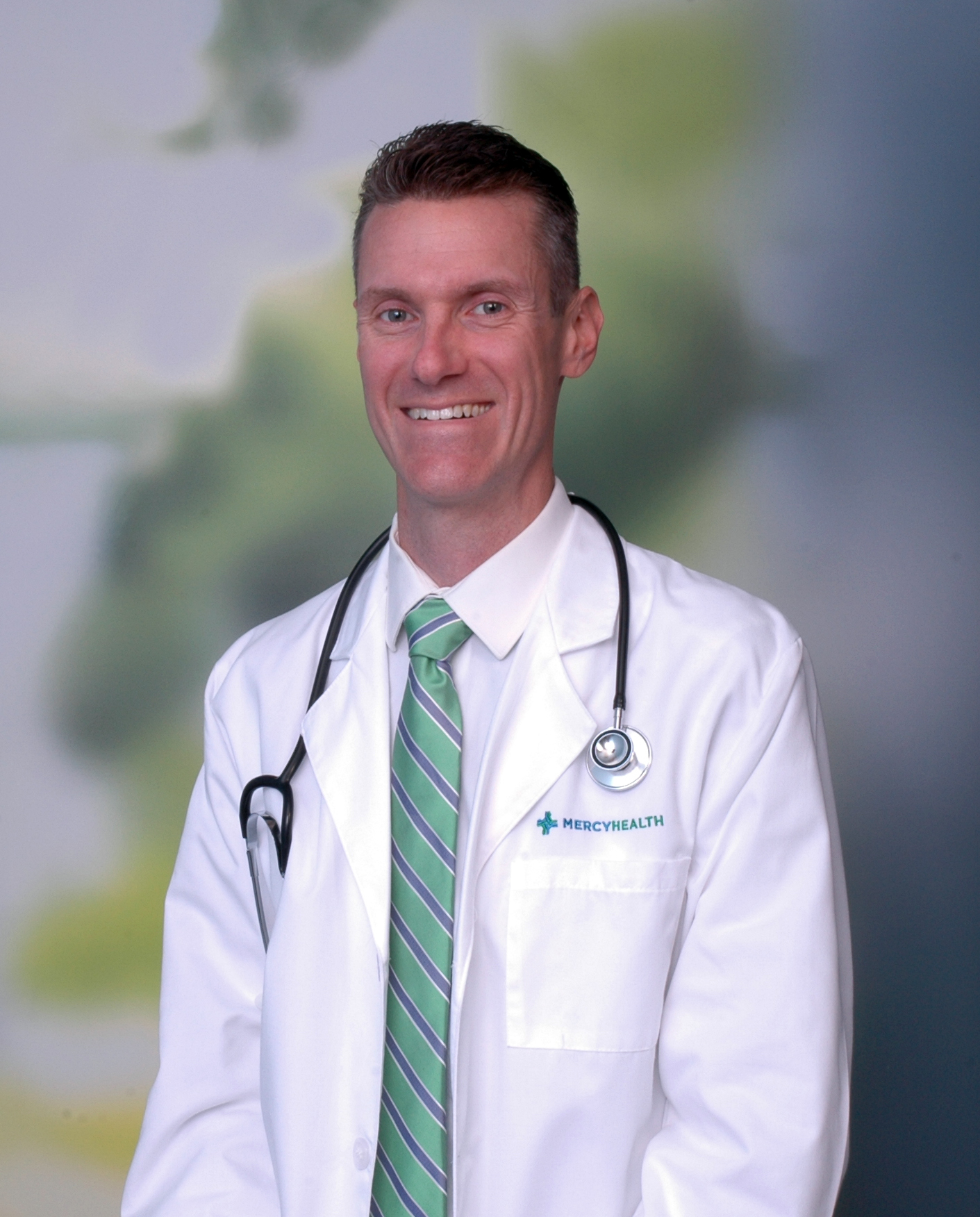 Matthew Owens, MD, chief clinical officer of Mercy Health-Lima. Photo courtesy of Bon Secours Mercy Health.
HL: What is Mercy Health-Lima doing to recruit and retain clinicians?
Owens: At Mercy Health-Lima, we are blessed to be leaders of a large, progressive regional referral center in a relatively rural area of Ohio. While that is not the setting that every physician seeks during a job search, we have a strong track record of retaining our physicians for a long time once they settle into practicing here. We are surrounded by several wonderful small cities and communities that are filled with wonderful people who seek our care, and that becomes endearing to our clinicians.
The landscape for recruitment is challenging right now. We know there is a physician shortage across the country. Our biggest sell is to convince clinicians to come and take a look at what we have to offer, to see how progressive our medical center is, then show them how nice it can be to live in our communities.
Regarding retention, we specifically work to ensure that our providers feel they have the tools needed to be successful. We also recognize the gravity of burnout and the emotional scar that the pandemic left on our care teams. We are healing together—we have developed a few methods of intervention that we hope provide members of our care teams a path to recovery. For example, we have a Life Matters platform that allows our providers to reach out if they have specific concerns related to mental health or burnout, or more broadly if they have specific life concerns and need help tracking down resources in the community.
We also have a program called Caring for Colleagues, where there are several of our physician colleagues across the ministry who have volunteered to provide their cell phone numbers so any care team member can call them at any hour of the day or night and receive counseling.
HL: What are the keys to success for quality improvement initiatives?
Owens: Transparency and communicating a clear "why" behind a quality improvement initiative are probably the most important factors to being successful. If I cannot communicate a compelling reason why a quality initiative should take priority in the minds of our care team members, it will certainly not gain traction.
HL: Give me an example of a quality initiative you have led.
Owens: As we emerged from the pandemic, we were finding that we had a high rate of catheter-associated urinary tract infections. That was partly related to long lengths of stay of COVID patients. We wanted to get those catheter-associated infections back under control. We brought together several physician and nursing leaders from across our healthcare market. We explained the "why" in a transparent way, and we asked them for action steps that would impact the hospitals that they lead. What was great as an outcome was getting buy-in right away, which helped us decrease those infections precipitously over the past six months.
HL: What are the keys to success in patient experience?
Owens: Our patients expect great care, and they are moved by how we make them feel. The soft skills of medicine such as body language and empathy are critical in every single patient interaction. As patients seek greater and greater awareness of their care plans, we must strive to keep them feeling like they are partners in their health.
The most basic thing is ensuring that our providers have the clinical skills and the knowledge base to be successful. That is the absolute baseline level that we would expect. The next level we would expect is the soft skills. I want a clinician in our market to walk into a room and not only make the patient feel they know what they are talking about but also make the patient feel like they are heard and they want to come back and see that provider again. That's how we convince our community that we are providing them a great patient experience. When patients leave feeling they have been heard and they have been truly cared for, and they leave thinking they want to come back, they go home and tell the rest of the community about that experience. Our providers also become more successful in attracting patients because of that experience.
So, we have programming that tries to teach soft skills to our providers. We try to go beyond the clinical knowledge base and make sure our providers are exposed to a curriculum that allows them to engage soft skills when they are interacting with patients.
Related: The Exec: WMCHealth CMO Renee Garrick Talks About Facing Current and Future Clinical Challenges
Christopher Cheney is the senior clinical care​ editor at HealthLeaders.
---
KEY TAKEAWAYS
To boost retention of healthcare workers, roll out programs that address burnout and provide support for life challenges.
Transparency and communicating a clear "why" are essential to achieve success in quality improvement initiatives.
In addition to clinical skills and knowledge, clinicians can boost patient engagement with soft skills such as body language and empathy.