With a management engineering background, Richard Rothberger brought a performance improvement mindset and financial discipline that helped turn Scripps into a financially solvent, growing health system.
HealthLeaders spoke with Richard Rothberger, retiring CFO from Scripps Health to hear his parting thoughts on leading the organization for 21 years.
With a management engineering background, Rothberger brought a performance improvement mindset and financial discipline that helped turn Scripps from a poorly rated company with an unaffordable capital plan to a financially solvent, growing health system. He is also a founding member of the HealthLeaders CFO Exchange, a premier thought leadership and networking community for healthcare executives.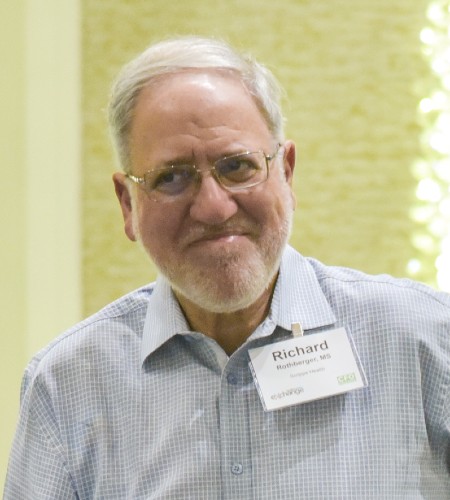 Richard Rothberger, retiring CFO from Scripps Health. Photo by Thomas Cronshaw.
Q: How did you enter the world of finance for a healthcare organization?
A: "I came up an unusual path for CFO. My background was industrial engineering which was focused on healthcare systems. I was an analytically inclined mathematician that could help reimagine healthcare and make a difference.
"During my time at [a healthcare organization] in Sacramento, the system went from three to seven hospitals, and I was also involved in acquisitions and got board exposure. As time went on, people I worked with saw an aptitude in me. More doors opened because I continued to take on more responsibility--more engineering consulting, productivity improvement, cost accounting and analytics. When the CFO vacated his position, he said it was my job to lose.
"The CFO of future is not a CPA but has operations knowledge of every area of the business."
Q: What advice do you have for healthcare CFOs?
A: "The industry has never been this volatile and uncertain, so we need to change expectations of revenue. There will continue to be increased costs for labor, supplies and services that will not be offset by revenue. Healthcare leaders will need to reduce or rethink capital plans and have a new way of thinking about how to provide value to customers and get paid for it.
"Demand for healthcare is going to be greater than supply, so healthcare organizations will need to set a new price point—increase prices, provide incentives for outcomes and service, and do whatever you can to get payers to work with you.
"CFOs will also need to focus on managing their capital spend, improving productivity, advocacy, and tighter budgets. [Financial leaders] have always relied on their investment portfolio, and with the cost of debt increasing, reassessing your debt portfolio is important. And leaders will need to keep ratings to the highest level to give them the ability to finance with lenders.
"CFOs will need to understand and [make wise investments in] technology: There may be opportunities with AI and technology to reduce labor costs and find opportunities for revenue improvement, but there will be increased spending to deal with cybersecurity risks."
Q: What skills sets have you found to be indispensable in your role?
A: "Most important is being transparent, thoughtful, ethically grounded, and keeping C-level executives and the board informed.
"I've been with the same CEO for 21 years and never expected to be in one place with same CEO for so long. Have a boss you trust and respect, and who is on the same page with integrity and desired outcomes.
"You need to have excellent working relationships with both internal and external customers. Foster confidence with others so there's trust when there's hard news to deliver. Having a sense of humor can help.
"It takes experience to build [others' confidence in you] so that you don't say something in the wrong setting or not know your audience. Make sure you can be a trusted part of the team, and then people are open to coming to you for guidance and you can even give unsolicited advice.
"You need your team's support, as well as getting [others in the organization] to work with you. The CFO leads many initiatives and opportunities, but you must be able to execute. As long as you stay focused on opportunities to transform the organization and effectively execute, you can be successful.
"It's essential to hire and motivate the best people who will go the extra mile. I lead by example and coaching, and I delegate but hold people accountable for their work. You need to understand detail, but never lose sight of the big picture.
"Healthcare is a difficult challenge for everybody, so it's important to have fun. Over the many years I've been working I've never had a dull day, never been bored. Be open to new responsibilities—as long as you're thoughtful about what you take on--but it's okay to say no if you give a clear reason.
"It's about commitment, compassion, hard work, being yourself, and having fun.
Scripps President and CEO Chris Van Gorder has high praise for Rothberger's leadership and accomplishments and acknowledges him as a trusted colleague.
"I arrived at Scripps in 1999 as COO, and there was turmoil on the first day on the job. I took over as CEO [unexpectedly] just six months later and was dealing with an organization that was weak, losing money, had 55 days of cash on hand, and had no confidence from the physicians or staff. I needed someone who could rebuild the balance sheet and regain trust in the community and with donors
"I searched for someone like Rich for a year who had the qualities I was looking for: I needed more than a banker--someone who truly understood operations. Rich had been a management engineer who made operations more efficient. I didn't need a CPA but a financial leader I could trust.
"Within the first 15 minutes of his job interview with me, I knew I had found my guy. He exhibited energy, drive, and excitement. We had a lot of work ahead of us and I needed a partner who possessed those qualities.
"During the interview, we talked about what we could do together to move the organization forward. That kind of two-way dialogue is rare in a job interview. I thought, 'This is the guy that could fix the system.'
"I'm a retired cop, and one thing you have to know early on, as a police officer, is how to assess lots of nonverbal information--what you're seeing, body language—and make a judgment call as to whether the person is credible or going to jail. You must assess quickly; in the field you have less than a second since lives are at stake.
"After he left his interview with me, Rich wrote up a plan, outlining what we should do and sent it to me. It was exactly what we needed to do.
"Rich and I have been aligned since Day 1. I told him, 'The more you look worried, the more I don't have to be.' In 21 years, he's never disappointed me or the organization.
"I also needed someone who could be transparent with the financials. A CEO needs people he or she can trust and tell how it really is and not what the CEO wants to hear. When there was a need for capital spending and we didn't have the cash on hand, we needed to establish discipline in the organization. Physicians wanted cash for new equipment, and Rich told them, 'I know what you want, but we don't have any cash.' He then opened the books and showed them. This is the type of leadership we needed to get us through a dark time. It took us four years—working smart together—to turn things around.
"We're making Rich the first-ever Scripps' CFO emeritus and the board has passed a resolution in recognition of his 21 years of service. He leaves us with a strong balance sheet, stronger operations, and a better platform than when he first arrived.
"He's been a wonderful friend, partner, advisor, confidant—all the things a CEO must have with their CFO, so we've stayed together all these years. He's retiring from Scripps but Rich and I are going to be lifelong friends."
The HealthLeaders Exchange is an executive community for sharing ideas, solutions, and insights. Please join the community at our LinkedIn page.
To inquire about attending a HealthLeaders Exchange event, email us at exchange@healthleadersmedia.com or learn more here.
Julie Auton is the leadership programs editor for HealthLeaders.
Photo credit: Richard Rothberger, retiring CFO from Scripps Health. Photo by Thomas Cronshaw.