As critical staffing shortages threaten patients' access to care, healthcare leaders share ways they are recruiting and retaining their employees.
Editor's note: This article appears in the May/June 2022 edition of HealthLeaders magazine.
COVID-19's brutal toll on healthcare's frontline workers, with burnout and mental health challenges at an all-time high, could create even more significant workforce shortages, jeopardizing patients' access to care.
Nearly 30% of healthcare workers are considering leaving their profession, according to a 2021 survey from the Kaiser Family Foundation and The Washington Post. That is on top of the critical staffing shortages that predate COVID-19, in which vacancies increased 30% for nurses and 31% for respiratory therapists between 2019 and 2020, according to the American Hospital Association's (AHA) survey data.
By 2026, healthcare will experience a shortage of up to 3.2 million workers, says an analysis of EMSI data.
The United States is expected to face a shortage of nearly 124,000 physicians by 2033 and must hire at least 200,000 nurses per year to meet increased demand, which the AHA says is partially due to an aging patient population.
That's not going to be easy. A recent U.S. Bureau of Labor Statistics report found that, after experiencing large increases in jobs in January (+18,000) and February (+64,000), the healthcare sector gained only 8,000 jobs in March.
The challenge to stem workforce shortages is undoubtedly an uphill climb, but hospitals and health systems are up for it. HealthLeaders spoke with healthcare leaders about three ways they are working to stop workforce shortages and how they've been successful.
1. Pipeline propels students toward healthcare careers
Children's Hospital Colorado created a hospital workforce pipeline more than 20 years ago to better reflect the community it serves.
Through the Medical Career Collaborative (MC²), which launches high school students toward healthcare careers through hands-on experiences and more, Children's Colorado has filled at least 80 roles since the initiative began. The pipeline continues to help with workforce challenges, says Stacey Whiteside, the hospital's director of experience and engagement who leads MC².
"We have close to 20 graduates who have gone on and gotten their medical degrees, but this past August, we had our first MC² grad return to Children's Colorado and get hired as a pediatric emergency physician in an attending role in our emergency department," Whiteside says.
"Her story is indicative of the long-term plan this program has in place," Whiteside says. "She grew up literally around the corner, went to a high school that is about two miles from Children's Colorado on the Anschutz campus, and now she's back serving in this community. It's pretty phenomenal."
Children's Colorado launched MC² in 1999 to help develop a workforce that would more accurately represent its community.
"There was research coming out at that time that said the more diverse your workforce, the more effective you are, and Children's picked up on that earlier than other organizations," Whiteside says.
"We also started the program to partner with a local school [as] a diversity program to connect with students interested in healthcare," she says, "so the program had multiple goals."
Just three or four years into the program, Children's Colorado expanded its scope.
"There was so much interest and students were saying, 'I could work in a hospital and see what it means to have a healthcare career,' and the schools and other community groups were knocking on the door saying, 'We want in on this program,' so we changed the model and expanded it to serve students from other [non-local] schools," Whiteside says.
Now, the two-year program admits around 80 high school juniors annually out of about 350 applicants from partner schools. With the same number of seniors in their second year, MC2 educates roughly 160 students at a time. They learn either at Children's Colorado or its sister site, Denver Health, which adopted MC² in 2015.
"We have way more applicants to the program than we can possibly serve, which is both a hard thing and a neat thing to see," she says.
At least 96% complete the program and "somewhere north of 70%" pursue a career in healthcare, which may include clinical care, public health, psychology, mental health counseling, or other medical or social work, Whiteside says.
How MC² works
MC² is designed to offer several different experiences that expose students not only to health careers, but also to varied professional environments, Whiteside says.
The first year of the program includes field trips, workshops, training, and a paid internship at Children's Colorado or Denver Health.
"They're doing entry-level tasks as an intern, and they're learning things like, what is the difference between what a nurse does or a radiology technician or a lab technician? What does the CNA do and how is that different from administrative roles?" Whiteside says. "They're seeing that for themselves and getting a real picture of the different roles and what they mean."
The second half of the program focuses on coaching.
"They've had the hands-on experience … and senior year we shift to help the students decide what's next," she says. "We want to make sure they have the knowledge and tools to take this next step, so we support the students in writing for scholarships and we do coaching around college and career."
Adding to the workforce
While some MC² graduates attend college in other states, most stay local and begin their post-secondary education in the Denver area, Whiteside says.
"They would like to work while they're in school, which we love, so we are now piloting some different ways of keeping those students connected to our hospitals and moving quickly as they graduate from high school into entry-level roles where they can work and continue their education path at the same time," she says.
CNA courses and roles that don't require technical training—such as a lab assistant—are ways Children's Colorado employs MC² grads attending college.
MC² stays connected to its graduates, both near and far, with alumni programs and events for which they are invited back each year.
"Some of our alumni have never left the fold," she says. "And then we have some who leave and come back because this is their home community, and they want to return to Children's. We have both of those extremes and then everything in between."
One MC² graduate who went on to become a CNA, and then an RN, recently was offered a job as a nurse practitioner at Children's.
"She talked about how her whole career has been at Children's and she doesn't ever want to leave, and with turnover and retention issues, having that kind of buy-in is music to anybody's ears," Whiteside says.
"When somebody starts with us that young, there's a unique kind of loyalty. When you think about growing up with an organization and feeling like the organization invested in you when you were 16 years old, then that creates something kind of special," she says.
It's a testament to Children's Colorado's forward thinking, she says.
"For 20 years, Children's Colorado has been investing in this program and supporting students and it's no small feat. ... It's a lot of work, a lot of energy, and a tremendous amount of logistics," Whiteside says.
"But the return on the investment is starting to be pretty wonderful as we see nurses and now doctors, physician's assistants, lab scientists, radiology, and social workers starting to fill in our workforce, which was the original mission of the program," she says. "We're delivering on that now."
2. AI helps to more accurately schedule nurses
When nurse staffing needs for Sanford Health were estimated the traditional way—by humans—they were accurate about 60% of the time. But an artificial intelligence (AI)–driven tool currently being rolled out at the hospital system's four major medical centers has an accuracy rate of almost 90%, says Erica DeBoer, RN, Sanford Health's chief nursing officer.
Created by Sanford Health, the new AI predictive analytics tool, called LAMP (Leveraging Analytics to Mobilize our workforce and Prepare), is so named as "a bit of a hats off to Florence Nightingale as one of our original innovators," says DeBoer.
Traditionally, nurse scheduling was based on patient statistics from a year prior. LAMP, however, analyzes workplace activity to produce a schedule up to 18 months in advance.
Previous scheduling systems, with their spreadsheets, were "archaic," giving managers old statistics and requiring too much time and effort, DeBoer says.
"We had an opportunity to use predictive analytics to try to anticipate what our census is going to be and then based on that census, on a med-surg unit, or an OB unit, an adult ICU, or a pediatric ICU, we could start understanding what our staffing needs were going to be and look ahead at least four weeks and then anticipate even longer than that, as we think about workforce shortages of the future," she says.
Sanford Health sourced various data to develop the AI tool. Key indicators included a breakdown of the average patient census—admission, transfer, and discharge information—at key times during the inpatient nursing shift, which was gathered from EMRs.
"Tons of data points went into this to anticipate what the staffing needs might be," DeBoer says.
The algorithm also takes steps beyond predicting to prescribe the best possible solution, increasing the quality of long-term planning, according to DeBoer.
The AI tool was built to be agile and change along with Sanford Health's needs. As patient volume changes, staffing patterns can be tweaked in the tool to quickly adjust for the variations, she says.
"It's taken a long time for us to get here, but it will help us give our managers and leaders some time back and also not make staffing so reactive," she says. "It helps us to anticipate what those needs are."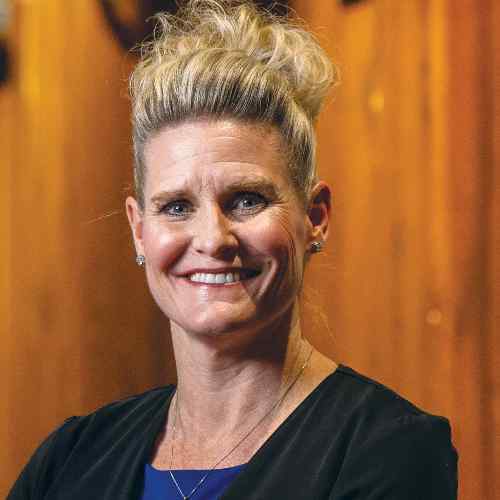 Pictured: Erica DeBoer, RN, chief nursing officer, Sanford Health. Photo by: Greg Latza/Getty Images
Sanford Health began piloting the AI tool two years ago at its Fargo, North Dakota, location, and it's scheduled to go live in June at its other medical centers in Sioux Falls, South Dakota; Bismarck, North Dakota; and Bemidji, Minnesota, for nurses and unlicensed staff.
The health system, which employs about 10,000 nurses, anticipates implementing the tool at its other hospitals and clinics as well, she says.
"Productivity is based on a staffing mix, and that doesn't include just our clinical staff; it includes some of the support teams as well, so we have some opportunities to continue to expand and make sure we're covered with support services, too," DeBoer says.
LAMP will be able to provide much more than accurate staffing for Sanford Health, DeBoer says.
"When you think about our integration with the electronic medical record and our ability to anticipate what our patients' needs are, I think the sky is the limit," she says. "When you think about what it could mean to understand and predict the flow of patients from an outpatient and an inpatient stay, it could help us revolutionize and anticipate what our patients and community needs are."
Increasing workforce satisfaction
Another advantage of the new technology is an expected increase in workplace satisfaction for nurses and nurse managers, DeBoer says, which will result in increased employee retention, better performance, and higher patient satisfaction.
"Specifically, it will help our managers be more present with our employees and with our patients. It takes some of that workload away because it automates it and there's not that worry that they have to be calling [nurses into work] and reacting to a specific patient need," she says.
"There'll always be a piece of that, knowing the acute-care dynamic, but what we hope is that from a manager and leader perspective, we'll give them upwards of 10 to 14 hours back in a week, which means they can not only take care of themselves, but they can help take care of our employees."
Bedside nurses will appreciate that the LAMP tool will help Sanford Health hire the right number of nurses to each unit, ensuring they get uninterrupted days off.
"Our employees then can anticipate what their schedule is going to look like and hopefully we can minimize some of those call-outs [caused by] reacting to additional staffing needs," DeBoer says.
Tools for good nursing have advanced since Florence Nightingale's day, but the idea—effective patient care—remains the same.
"We're trying to leverage technology as much as possible to automate workflows that probably don't add value, or that can take some of the load off that frontline nursing team," she says, "and get them back to the passionate work that they do every day with our patients."
3. A strong succession plan increases retention and lowers costs
When an Indiana University (IU) Health chief nursing executive moved into a chief operating officer role, her position was seamlessly filled by the chief nursing officer from the health system's largest hospital because of IU Health's solid succession plan.
"There was development and intentionality about having him on her [succession] plan," says Christina Chapman, IU Health's vice president and chief learning officer. "We were able to execute that and have a ready-now successor when she moved on."
Succession planning is identifying and developing potential candidates to move into leadership roles when they become vacant, she says. "It's the talent review process that comes before the succession plan," Chapman says. "It's important so that you can develop your own internal pipeline of talent."
That begins with an annual look at IU Health's talent pool.
"[During] our talent review process … we ask all of our team members to update their talent profile, which tells us more about their career aspirations—long term and short term, what their career dreams are, what their openness to relocation would be, and just a little bit more about them," Chapman says. "And then that talent profile information is available for their leader, [who] completes a talent assessment."
That assessment looks at the strengths and opportunities of the employee, what their next best role in the organization might be, and the effect of their transition on the team and the organization, she says.
Names of employees are placed in a nine-box grid, a widely used matrix tool designed for talent management and succession planning, that displays, categorizes, and compares employees' work performance and potential.
Senior leaders convene to discuss potential of the talent by asking such questions as:
• For those people considered high potential, what are we doing to develop them?
• Do we have differentiated development plans?
• Have we invested in development?
• Have we communicated to those employees that we think they have a strong career pathway ahead of them?
• For those individuals that don't have a strong successor path, how can we help them be successful?
They'll also review top jobs across the health system—chief executive, medical, financial, and nursing officers—and ensure that key talent pools are consistent across the regions, she says.
"We look at who is in that succession pool for those roles so that we get visibility to the talent not just in one hospital, but knowing where our talent sits everywhere," Chapman says. "And then outside of that, we then work on and partner on development."
IU Health has succession plans ready for more than just key leadership roles, Chapman says.
"We identify the positions where business operations would significantly be impacted if we didn't have a high performer in that role," she says. "Those roles may be a little bit deeper in the organization, [but] if we don't have strong performance in the role, it would either hinder us or not help differentiate us in the market."
The health system always reaches down into director levels, sometimes to the manager level, and occasionally to non-leadership talent pools, Chapman says.
"They may not go through the full talent review process, but we have leaders identify who they think might be emerging leaders, and those will be high potential individual contributors," she says. "We get them nominated for an emerging leader program, so in a sense, that's a succession activity for them. We're investing in them, giving them the opportunity to lean in a little bit more, and a lot of our managers come from that emerging leader pool."
Lower costs, higher retention
Retention, lower hiring cost, and organizational stability are among the greatest benefits of succession planning, she says.
"People want to know that they have a path forward," says Chapman. "As much as people want to grow and develop, it helps with retention in today's world. That's important to keep our talent."
Hiring someone from outside the health system is usually twice the cost of the position's annual salary, so it's more affordable to hire from within, which also adds to employee engagement and, ultimately, organizational stability, she says.
IU Health's internal promotion rate guides how well the succession plan is working, Chapman says.
"If we're going external more than we're coming internal, then we're not executing our succession plan successfully," she says.
"Where we're at is about two-thirds internal promotion and one-third external hires, which is a healthy mix from an industry data perspective to say that you bring in some fresh talent, but two-thirds of the time you're promoting internally," she says. "That's where we've been with some of our director-and-above succession planning, so we're proud of that."
"We also look at diversity percentages to make sure that we are promoting people up into roles and that our succession plans are allowing us to mirror our patient populations and the diversity in the communities that we serve," she says.
A successful succession plan requires work and intentionality, Chapman says.
"You can't just put a name in a box and say, 'This person could be a successor,' " she says. "It has to be something actively worked on."
"We're trying to leverage technology as much as possible to automate workflows that probably don't add value, or that can take some of the load off that frontline nursing team and get them back to the passionate work that they do every day with our patients."
Carol Davis is the Nursing Editor at HealthLeaders, an HCPro brand.
---
KEY TAKEAWAYS
With healthcare workforce shortages increasing, organizational leaders are looking for ways to boost recruitment and retention.
Developing workforce pipelines and establishing strong succession planning are effective in attracting and keeping employees.
Emerging technology is providing relief to the workforce as it automates workflows and streamlines workload, resulting in greater employee satisfaction.