The answer is both as payers benefit unevenly from CMS' fine turning.

If you want a front-row seat to the Medicare Advantage (MA) Star Ratings controversy, grab your popcorn and consider the ongoing war of words between healthcare industry veterans.
In one corner, those who defend the program: "MA has an extensive, well-structured, and strongly administered five-star system."
In the other, those who believe the Emperor Has No Clothes: "[T]he Five-Star program, while well intended, primarily creates a 'performing to the test' result rather than solid and important quality improvements in outcomes."
With 2023 plan results lower than they've been in years, HealthLeaders' timely examination of Stars includes our exclusive interview with Healthmine Senior Advisor and Stars program expert Cherié Shortridge. This feature is part of Payer Week—five days of in-depth coverage spotlighting the significant roles and contributions of health insurers.
CMS fiddles, plans burn
Just how challenging was 2023? HealthLeaders reported that 51% of MA plans with prescription drug coverage (MA-PDP) had an overall rating of four stars or higher. There was also a 30% decline in the number of five-star plans (from 74 to 57).
Seeking Alpha reports that "only four publicly traded managed care providers . . . achieved a score of four stars or higher for their largest MA contracts"—Alignment Health, Elevance Health, Humana, and UnitedHealthGroup.
Among privately held payers, Kaiser Permanente maintained its consistently high Star Ratings in 2023. All Kaiser's plans received at least a four-star rating. Its California, Colorado, Georgia, Hawaii, and Mid-Atlantic plans received five stars, most for more than a decade.
In contrast, Seeking Alpha continues, only 21% of Aetna plans received a four-star rating or higher. This near-total reversal from 2022—when 87% of its plans were so rated—will result in a projected $800M–$1B net income loss for 2024 by Aetna's parent company, CVS Health.
Past performance is no guarantee of future results
Could the poor outcomes have been prevented? Yes, no, and maybe.
The 2023 ratings year included multiple CMS methodology changes:
Guardrails (upper and lower limits) that define a plan's measure-specific Star Ratings;

Elimination of "better of" provisions, which allowed plans to choose current or past data for most 2022 measures; and

Removal of performance outliers in select ratings calculations
"The codified and proposed changes over these next few years are more than we've seen since the beginning of the Stars program," says Shortridge.
And while some may argue that 2023 Star Ratings were not truly performance related due to these changes, that's not entirely accurate. Shortridge agrees.
"Even before the public health emergency (PHE), Stars ratings had been stable for three-four years. Throughout the PHE, plans benefitted from the 'better of' scoring methodology for most measures," says Shortridge. She adds: "Stars is now measuring real rates again."
While the "better of" change gave plans a Get Out of Jail Free card, the choice was still based on performance, still impacted by COVID-19.
The outlier provision means that "poorly performing plans will no longer bolster the ratings of other plans."
The answer? Every MA plan benefits from an enterprise-wise Stars strategy. Most plans also struggle with significant methodological changes, including scoring interdependencies that impact performance regardless of a payer's tactics.
Shortridge adds: "CMS provides forewarning of upcoming changes, but it was still hard to prioritize with so many other competing priorities."
Everything is relative
The outlier provision reflects the relativity aspect of Stars: ratings components that depend on other factors. While leading plans have lost the outlier bump, they still earn a "reward factor" (as high as 0.4 stars) for consistently high performance over time. The reward factor makes it more likely that 5-star plans will stay that way—a kind of compound of interest effect.
Something else that's relative? The annual average Star Rating.
Before 2023, Star Ratings had climbed steadily over time. Just as the Dow Jones has shattered one unthinkable milestone after another, the average rating reached 4.37 Stars in 2022—"an all-time high in the program's 12-year history" per McKinsey.
This was also the first year that CMS applied new quadruple-weighted customer experience scoring to Stars (sourced Consumer Assessment of Healthcare Providers and Systems [CAHPS] data).
"There is a heavy weight on CAHPS, but look at the questions: Did you get the appointment you needed? Did your doctor have your medical records at your visit? Did he or she help coordinate your care?" says Shortridge. "This isn't about health plan management. It's about the relationship between the member and their provider and access to care."
MedPAC still isn't happy
Just as likely as a new Stars "best" is a consistent Stars "worst": the program's ongoing flaws.
Between 2016-2018, the same sentence appeared in MedPAC's annual Medicare report to Congress: "[T]he Commission has been increasingly concerned that Medicare's approach to quality measurement is flawed because it relies on too many clinical process measures."
MedPAC has repeated a version of this statement since at least 2015, including 2023: "Over the years, the Commission has determined that the QBP [Quality Bonus Program] is flawed and does not provide a reliable basis for evaluating quality across MA plans in meaningful ways; plans have also received unwarranted bonus payments under the QBP system."
Star Ratings serve two gods
Can Stars overcome these copy-paste critiques? The answer is uncertain and may be rooted in the program's dual purpose: consumer marketing and plan payment.
So notes a 2015 brief by the National Health Policy Forum Issue Brief, which adds: "This dual function means that CMS must be responsive both to beneficiaries who want transparent results relevant to their purchasing decisions and to health plans that have concerns related to differences in populations and their ability to influence the performance being measured."
Stars has two other functions: support Medicare financial stability and quality.
"CMS projects the new and proposed changes will result in billions of dollars in Medicare cost savings," says Shortridge. "The right care at the right place at the right time is just good business."
Callout: Bonus Content: 8 expert tips for top Stars performance
Don't treat Stars as an event; maintain an ongoing enterprise-wide strategy.

Maximize existing, internal data, such as complaints, grievances, and appeals

Deploy key operational teams, including care management, disease management, call centers, and other customer-facing departments.

Use supplemental benefits to improve performance across multiple measures.

Make patient experience a core differentiation strategy.

Identify and diagnose at-risk measures.

Deploy metric-specific initiatives.

Create and increase programmatic quality investments, such as call campaigns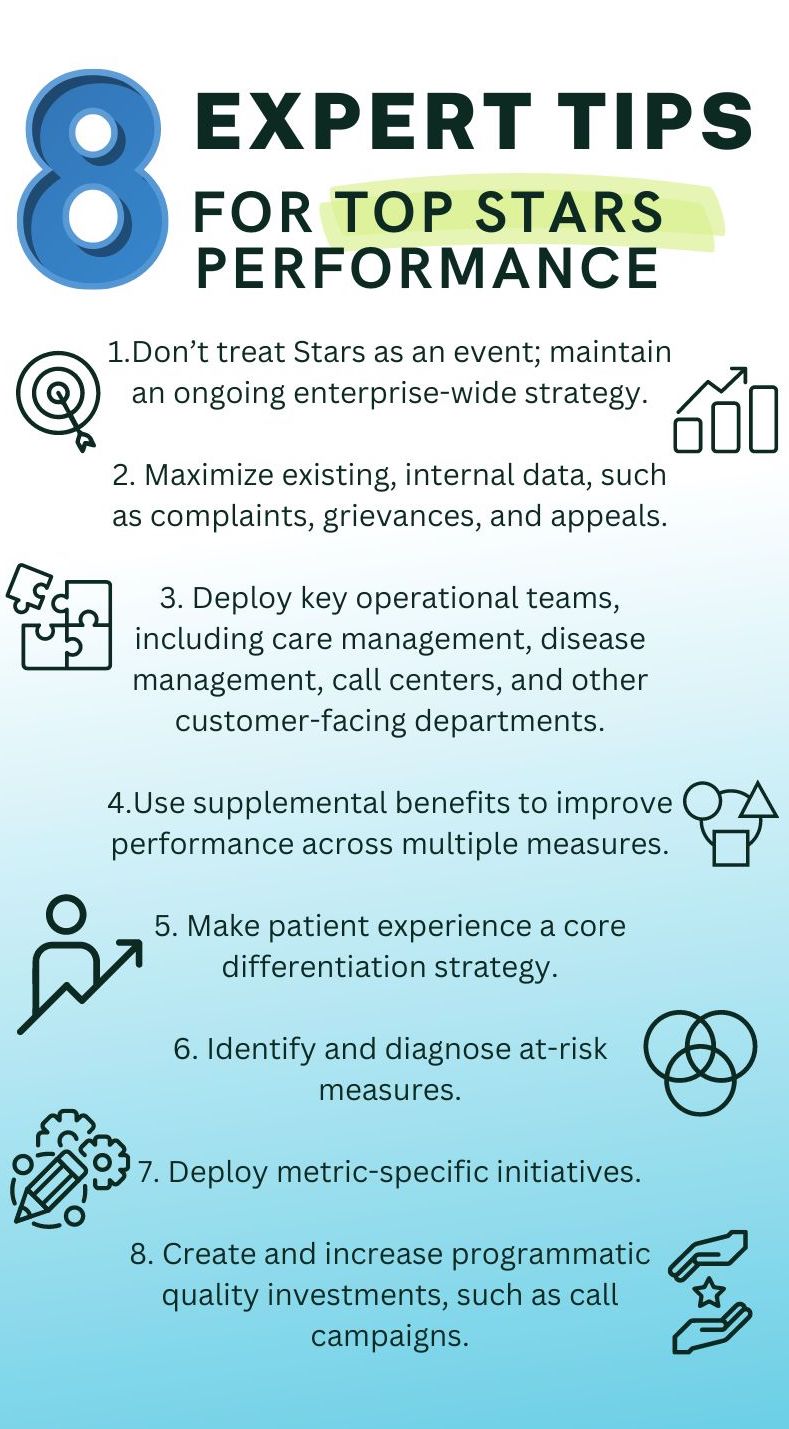 Laura Beerman is a contributing writer for HealthLeaders.
---
KEY TAKEAWAYS
The 2023 Star Ratings were a rude awakening for many health plans but shouldn't have been.
Multiple changes sank plan performance but stabilized a program that may be guilty of chronic overpayment.
Either way, billions are on the line with Stars: a program with intersecting objectives that plans can meet if they act strategically.