While some organizations already have systems in place to adhere to price transparency requirements, opportunities still exist to adjust outdated revenue cycle processes.
The No Surprises Act, which became effective January 1, requires hospitals to post the prices for their most common procedures as well as offer a patient-friendly tool to help shop for 300 common services.
Unfortunately, most organizations are behind in adhering to this requirement—still.
Earlier this year, JAMA published a study that concluded that out of the 5,239 hospital websites evaluated, roughly 51% of hospitals did not adhere to either price transparency requirement.
Almost 14% of hospitals studied had a machine-readable file but no shoppable display, while 30% of hospitals had a shoppable display but not a machine-readable file, according to the study. It also found less than 6% of hospitals were compliant with both components of the mandate.
Not much has changed even since then.
According to the recent PatientsRightsAdvocate.org's Semi-Annual Hospital Price Transparency Report, only 16% of 2,000 hospitals reviewed are complying with the regulation requiring all hospitals to post their charges, including payer-specific negotiated rates.
Of the hospitals studied, 5.1% were in total noncompliance as they did not post any standard charges file, and 51.3% failed compliance because the majority of their pricing data was missing or incomplete.
While some organizations now have systems in place to help them adhere to the new rules, opportunities still exist to revisit outdated revenue cycle processes to better comply with these regulations.
Connie Lockhart, director of strategy and operations at Impact Advisors, discussed with Healthleaders six key strategies that revenue cycle leaders can use to increase price transparency, mitigate the risk of surprise billing, and support efforts to improve the patient experience through enhanced revenue cycle processes.
Before diving into the six key strategies, when first shoring up price transparency processes (and as mentioned in the studies above), there are two main requirements that organizations need to adhere to immediately.
"Revenue cycle leaders need to first make sure they are following CMS' guidelines to complete a comprehensive, machine-readable file of all services and items," she says. "Ensure all requirements are met—like how a separate file must be posted for each hospital. And be cognizant of multiple hospitals operating under a single hospital license with different sets of standard charges."
Also, ensure that list is posted on a publicly available website.
Once completed, make sure to post a display in a publicly available website of 300 shoppable services in a consumer-friendly format. This should include the 70 CMS-specified, shoppable services, Lockhart says. Revenue cycle leaders should also establish a cadence to ensure both displays are updated annually, Lockhart says.
Once the basics of price transparency are in place, revenue cycle leaders can then move to streamlining other areas of the requirement. Here are six key strategies Lockhart suggests.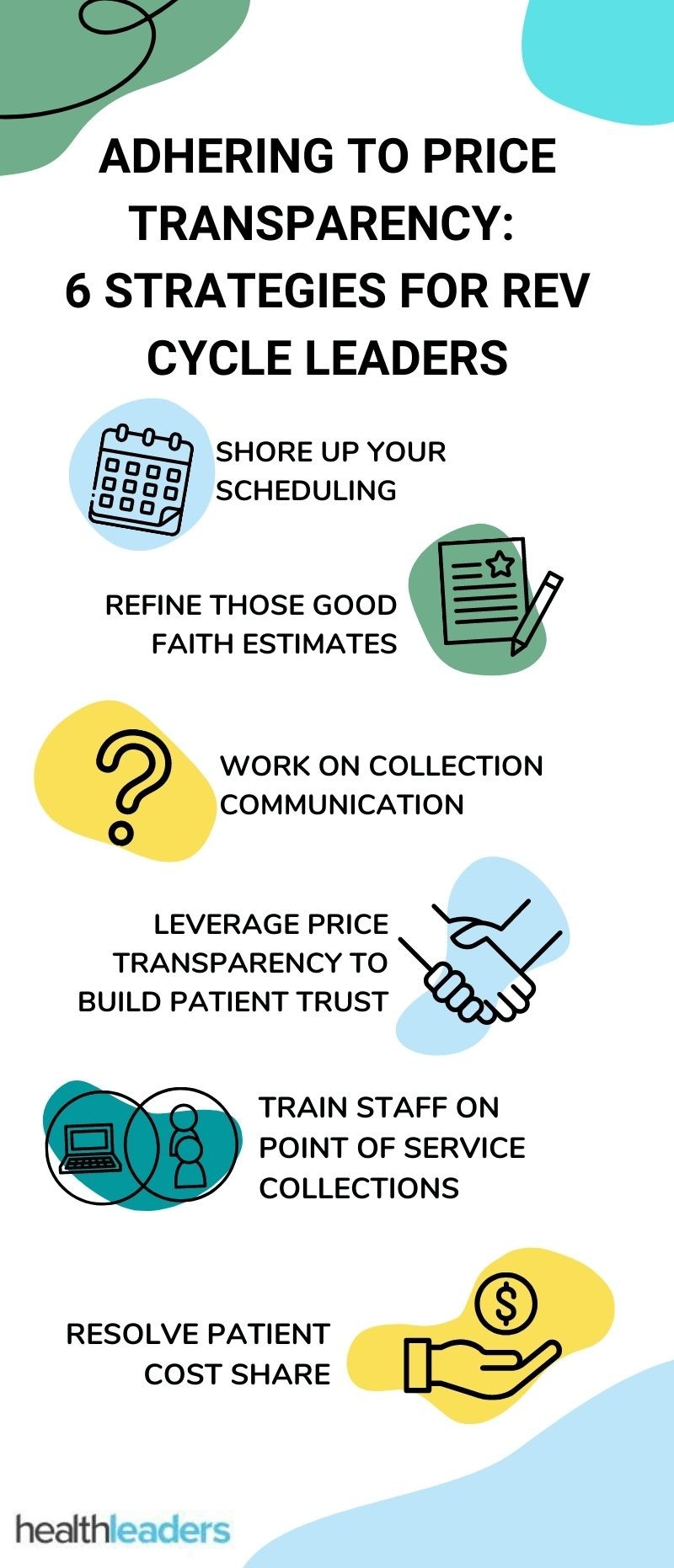 Shore up your scheduling
Improve the patient experience with better access to scheduling appointments and verifying patient eligibility, Lockhart says.
For eligible self-pay patients, revenue cycle leaders should ensure timelines are in place for governance of the No Surprises Act. It is the provider's responsibility to verify if the patient is self-pay, so looping in front-end revenue cycle staff to address this task is a must.
For example, if a patient schedules more than ten business days in advance of a service, an organization has three days to issue a good faith estimate. If a patient schedules three days out, staff only has one day to issue the estimate.
Refine those good faith estimates
Patients are consumers, Lockhart says, so it's important to establish expectations regarding the process for collecting out of pocket expenses. A lot goes into good faith estimate requirements, so it's essential for revenue cycle leaders to stay up to date on those intricacies.
For example, for services provided in 2022, patients can dispute medical bills that are $400 or higher than the good faith estimate that was provided.
For self-pay patients who do not have health insurance or choose not to use it, the good faith estimate is applicable, Lockhart says.
Work on collection communication
Convert the good faith estimate into cash collections to make it a smoother process for both the patient and the organization, Lockhart says.
Implementing scripting, automation of a patient estimator tool, and training for all pre-service/registration staff is key to ensuring timely and consistent communication and collections.
Leverage price transparency to build patient trust
One positive aspect of price transparency for organizations is that it can help build trust by providing patients the cost of service prior to receiving services, Lockhart says.
In order to build this trust with patients, revenue cycle leaders must make sure processes are streamlines and compliant.
"Ensure compliance with pricing transparency and good faith estimates by utilizing the CMS requirements as a baseline to assist in your hospital's review of the hospital price transparency final rule and complete a gap analysis to identify processes/elements that are not aligned with the requirements," Lockhart says.
It's also essential that your chargemaster is easily accessible, and that revenue cycle leaders perform quality checks to include bill audits. Lockhart says this strategy will ensure there is timely, consistent, and accurate communication with the patient regarding the cost of care before both the service and the bill.
Being timely, consistent, and accurate in your price transparency and estimates will build that trust and ensure a positive patient financial experience.
Train staff on point of service collections
Educate and train revenue cycle staff to be able to clearly communicate and explain the good faith estimate to patients, Lockhart advises.
Including scripting and frequently-asked-question handouts will help front end staff better communicate with patients about these prices and bills.
Resolve patient cost share
Revenue cycle leaders can reduce denials and self-pay vendor costs by resolving patient cost share on the front end, Lockhart suggests.
To do so, it's important to implement governance and reporting for point of service collections, and to track and monitor point of service collections (e.g., expected vs. actual payments) on a monthly basis, Lockhart says.
"Revenue cycle leaders need to first make sure they are following CMS' guidelines to complete a comprehensive, machine-readable file of all services and items."
Amanda Norris is the Associate Content Manager of Finance, Payer, Revenue Cycle, and Strategy for HealthLeaders.