The year is off to a staggering start. Widespread staffing shortages, inflation, and relentless cyber threats — all compounded by the pressures of the ongoing pandemic — continue to drive unexpected costs for healthcare executives in 2022.
Asked which sources of unexpected operational costs keep them up at night, three in five healthcare executives cite labor shortages, while more than half (52%) point to inflation. Another 51% indicated cybersecurity, and nearly half (49%) cited regulatory risks, according to a Syntellis and Wakefield Research survey.
COVID-19 remains a top concern for 65% of the 200 U.S. hospital and health system c-suite executives surveyed. The results reflect the immense and unparalleled challenges of the current healthcare environment, and the mounting importance of cost containment strategies to ensure not just financial sustainability, but organizational survival.
Three-quarters of healthcare executives said cost containment is a high priority, yet respondents are divided on how best to manage costs. Four tips can help healthcare leaders implement effective cost containment strategies at their organizations.
Figure 1. Most Concerning Unexpected Costs for Hospital Executives in 2022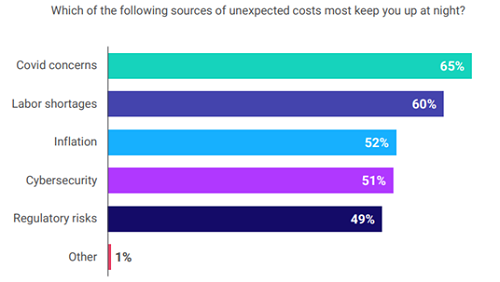 Source: Syntellis Performance Solutions and Wakefield Research
Casting a Wide Net
Asked to rank the most effective means of containing costs, leaders' responses were spread across multiple key priorities. No single strategy rose to the top as a primary solution.
Optimizing workforce productivity, improving processes, and reducing overhead expenses each received about 20% of survey responses. Executives also identified leveraging economies of scale, seeking lower-cost suppliers, and eliminating unprofitable services as effective strategies.
The variety of responses shows that executives are casting a wide net to address an array of unexpected costs affecting their organizations. This approach illustrates the challenges of cost containment — creating a comprehensive strategy to reduce existing costs and control both current and future costs.
Figure 2. Most Effective Strategies for Containing Costs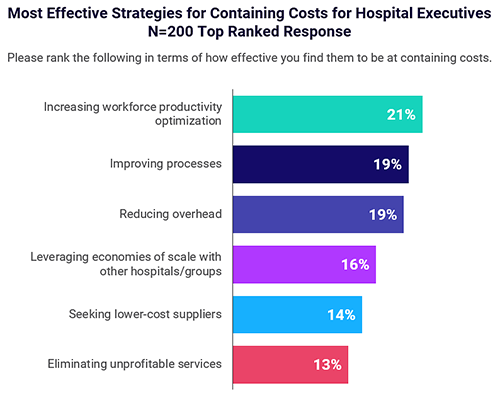 Source: Syntellis Performance Solutions and Wakefield Research
Tips for Effective Cost Containment
Effective cost containment moves beyond traditional, one-off cost-cutting initiatives. While such initiatives often lead to short-term savings, the benefits wane over time or are offset by rising expenses in other areas. Instead, executives should take a more global approach and integrate cost containment as an ongoing part of routine processes.
Four tips to implement an effective cost containment strategy are:
1. Improve understanding of organizational costs. To address rising costs, healthcare leaders must first understand the drivers behind those costs. This requires continuously evaluating costs at all levels across an organization, including supplies, labor, facility needs, maintenance, and clinical performance.
For example, leaders should track supply chain cost and utilization data on purchased products and services through to individual patient encounters. They should analyze this data to gauge the hospital's performance against internal and external benchmarks, project future demand, and guide purchasing plans.
2. Build engagement organizationwide. Healthcare leaders need to build a culture of cost containment that permeates the entire organization and supports ongoing performance improvement. Maintaining buy-in and input from stakeholders across different departments, facilities, and service lines helps leaders better understand cost drivers and identify realistic, sustainable targets.
Having the support of physicians and other frontline clinical and support staff is essential in developing actionable cost containment strategies, as they must execute many of those strategies day-to-day.
3. Link labor costs and productivity. Labor costs can account for as much as 60% of an organization's total costs and are of critical concern amid current labor shortages.
Tying labor costs to physician and staff productivity can help uncover inefficiencies. It also helps leaders determine how best to allocate labor resources to improve workflows, minimize downtime, and ensure appropriate staffing levels to meet patient demands.
Executives should collaborate with clinical and departmental leaders to evaluate labor costs and establish reasonable productivity targets that maintain high standards for care quality.
4. Provide robust tools for data-driven decision-making. Clinical leaders, departmental managers, and others across an organization working to implement healthcare cost containment strategies need the right tools to succeed.
Analyzing and monitoring expenses, cost and utilization trends, patient volumes, productivity, and other performance metrics relative to targets require modern cost accounting, comparative analytics, and clinical comparison solutions. Organizations need access to accurate cost data and analytics at all stages of a cost containment initiative.
The need for hospitals and health systems to implement continuous, systemwide cost containment strategies has never been greater. Ultimately, patients pay the price for uncontrolled healthcare costs. According to the survey, more than four in five executives (81%) said costs from poor planning typically are passed on to patients.
Flint Brenton is CEO at Syntellis Performance Solutions, where he leads the company's strategy and vision to deliver on the promise of elevating customers' financial performance.