As managing director of innovation at UnityPoint Health, Matt Warrens guides the health system through a crowded and complex landscape.
A recent survey of 100 health system executives found that only 6% have a "fully developed" digital health strategy. Iowa-based UnityPoint Health may well fit into that category, with a $100 million venture capital fund aimed at driving consumer-based digital transformation and a managing director of innovation who has a good idea of the path forward.
But that path isn't always clear.
"If this ever gets easy, then we're probably doing something wrong," says Matt Warrens.
Warrens, who spent roughly 20 years at OSF HealthCare, including time as the health system's vice president of innovation partnerships, joined UnityPoint in 2018, and within a year he'd helped to launch the venture fund to push innovation forward. It came at a crucial time for the 21-hospital network serving Iowa, Illinois, and Wisconsin, as the pandemic was just beginning to clamp down on healthcare and health systems were struggling to adopt—and adapt to—digital health.
"Health systems are notoriously slow" in embracing new ideas like digital care, he says. But in a changing world driven by new technologies and consumer demand, they have to be more nimble and accepting of platforms that improve care delivery outside the hospital.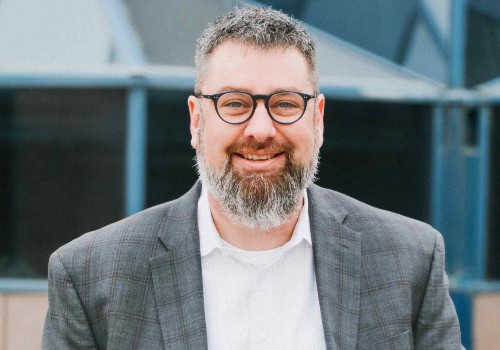 Matt Warrens, managing director of innovation at UnityPoint Health. Photo courtesy of UnityPoint Health.
Flash forward two years, and COVID-19 is a nagging but fading concern. UnityHealth's program has made investments in 13 digital health companies, which Warrens is careful to say aren't necessarily start-ups but "scaling solutions." In fact, 12 of those 13 now have commercial contracts with the health system.
It's Warrens job to lead the team that filters through the potential candidates to find digital health solutions that are beyond the pilot phase. He estimates they looked at 650 companies in the past year, and average about one investment for every 100 companies.
"We have a dedicated team that manages the venture fund," he says. "They're recruited into our organization with the venture experience to do that. There are a lot of organizations that are trying to do venture investing, and if you don't have a dedicated team and people with experience to do the appropriate diligence, it's a hard thing to do because there are lots of opportunities."
"What's unique about what we're doing is on the strategic side," he adds. "We have a dedicated team, mostly of project managers and nurse informaticists, that work with our leaders in the organization once we've made a financial investment to help scale that solution across UnityPoint."
Warrens says it's important that he and his team knows what the various departments in the health system are doing and what they're looking for in new technologies or services. They'll ask department heads not only what they need but what they'd like to have.
"Innovation is a culture for our organization, and it's woven into all the strategic aspects of what we're doing," he says.
But he also needs to know, and to be able to tell those within the health system, about what's going on outside the network. In the rapidly changing healthcare ecosystem of today, that's a big sandbox with a lot of new players.
"The world doesn't work anymore like it used to, where things start on the coast and move to the middle," he says. "If Amazon is launching primary care, it's coming to Iowa. Walmart, Walgreens, United Healthcare, they all have innovation strategies, and it's important to know what they are doing as well so that we're helping our leaders understand those threats, and then bringing forward the innovation opportunities that we believe can compete with those. We're not competing with the hospital across the street anymore, right? It's a different world today."
Warrens says UnityPoint's innovation strategy primarily focuses on two types of technology: Tools or platforms that make the healthcare process more frictionless for patient-consumers, and solutions that make healthcare delivery easier for care providers.
"What we're seeing coming out of the pandemic is this staffing crisis is not going to go away, so what can we be doing to help there?" he says. "And that could be around recruiting, [or] it could be around retention, [or] it could be around more efficient scheduling. But also because the crisis isn't going to go away and we're going to continue to face this challenge, it's accelerated the opportunities around what things can we automate."
As for improving the process for consumers and patients, Warrens said the 21st Century Cures Act's Interoperability, Information Blocking, and the ONC Health IT Certification Program—shortened to the Interoperability Rule—is driving a lot of interest in technology that allows the consumer to easily access and share medical records. It has also forced healthcare providers to be more aware of what the patient wants.
For example, UnityPoint is partnering with Baltimore-based b.well Connected Health to use the company's "digital transformation platform," which leverages FHIR-based APIs to collect data from various locations, such as the EMR, digital health devices, wearables, and other sites. Putting that data in one place enables patients to access everything on one platform, which gives providers the data analysis tools to identify gaps in care.
"Organizations like ours have to be putting things in place that are more open and adaptable to you the consumer, to the technology and the choices that you've made versus what a lot of health systems have done for decades, which is, 'Hey, patients, here's the way we want it done. Here's the one way that you have to do this,' " he says. "That's what we have to do better."
Warrens says the industry is shifting from endpoint solutions to enterprisewide products, with more of a focus on integration with other platforms to accommodate complex health concerns, such as multiple chronic conditions, behavioral health, and social determinants of health. And there's more interest in partnerships and collaborations, not only with vendors but with payers, pharmacists, and specialty care providers.
Those trends offer a hint to how healthcare should evolve, he says. The healthcare landscape is in turmoil, with a lot of ideas coming from non-healthcare sectors and a general feeling that providers are struggling to keep up with new competition.
Not so fast, Warrens says.
"For someone who's been in this industry for 25 years, when you see Amazon, or Berkshire Hathaway, or whatever, making an announcement like, 'Hey, we're going to get into healthcare,' I'm just, like, 'OK. Good luck.' It's really hard," he says.
"And what happens is they get in there, and they're like, 'Wow, this is really complicated, it's way overregulated, the margins are tiny.' They probably have to make a hard, quick decision like, 'Oh, OK. This was a mistake. I'm getting out of this.' "
"Innovation is a culture for our organization, and it's woven into all the strategic aspects of what we're doing."
Eric Wicklund is the associate content manager and senior editor for Innovation, Technology, Telehealth, Supply Chain and Pharma for HealthLeaders.
---
KEY TAKEAWAYS
The pandemic and the evolution of patient-centered care have put many health systems on the spot in mapping out a long-term digital health strategy.
Iowa-based UnityPoint Health has created a venture capital fund to support its innovation roadmap, which looks for technologies that can ease provider workloads and reduce friction for consumers and patients.
Matt Warrens, the health system's managing director of innovation, says it's not easy finding the right new technologies and services that can cut through the complexity in healthcare.