The VP of finance and revenue cycle at PMHA details the health system's quest to secure more revenue, reduce denials, and support better outcomes.
As finance and revenue cycle leaders fight against poor operating margins, reduced reimbursement, and inflated expenses, developing and executing a strategic path to a financially sustainable future is essential.
Nicole Clawson, VP of finance and revenue cycle at Pennsylvania Mountains Healthcare Alliance (PMHA), feels these same pressures at her health system—a collaborative network of independent community hospitals located primarily in Western and Central Pennsylvania.
When budgets are tight, leaders need to be strategic when investing in technology. Because cost efficiency is so important, healthcare systems and hospitals alike need to get a lot of bang for their buck when considering technology—ROI is always key.
Clawson has the same thoughts since the PMHA mission is to enhance the ability of its member hospitals to provide patient-centered community-based care and to maintain their status as independent community hospitals.
To help ensure financial stability, the revenue cycle division at PMHA includes an overall approach to standardization and process efficiencies focusing on people, process, and technology, Clawson explained to HealthLeaders.
"Our core revenue cycle model includes its shared service management division along with the technology in the systems it uses to gain efficiencies, best practices, and create an overall increase in cash collections and a reduction in denials and bad debt," Clawson said.
PMHA has extension divisions that can be utilized independently of its shared service management, Clawson said. Included in this is its:
Revenue integrity/charge master division
Contract management and payer relations division
Retainer services within its revenue cycle
"The revenue cycle divisions provide overall revenue cycle management using best practice, efficiency, workflow standards, and reporting to enhance the entire revenue cycle process. A key function within hospital operations, our best-in-class experts work to optimize the financial process used to manage administrative and clinical functions associated with capture, management, claims, payment, and collection of patient service revenue," Clawson said.
When a hospital system has such a multifaceted operation such as this—while also needing to count every penny—streamlining processes while staying cost effective is critical.
Because of this, Clawson says PMHA is in the process of implementing a combination of technology and operational expertise to monitor revenue cycle data flow from beginning to end with four of its member hospitals.
Read on to hear what Clawson had to say about the system's pain points, implementation strategy, and lessons learned so far.
HealthLeaders: What sort of pain points were you seeing in your revenue cycle that made you realize you needed to implement a change?
Nicole Clawson: Healthcare is ever changing, this is known. Our divisions are strong and while we are in a good place within each service line we offer, a strategy to optimize revenue and stay compliant is very important in this environment and looking out 5-10 years and beyond is important.
Our current systems wouldn't allow us to dive deep enough into the issues each of our member hospitals were and are facing. I wanted one database that could give me an 'at a glance' snapshot of each member hospital as well as the alliance as a whole.
We started with an evaluation of our current technology and found it to be inadequate for what our vision and needs were. It was very important for me to find not just a vendor but a partner that understood our model.
We are complex at PMHA, we have member hospitals with different operating systems and staff. While we are the constant in revenue cycle management within the shared service hospitals we needed a way to merge and loop the data to provide analysis and identify trends per hospital and across the membership of hospitals in order to rectify and create process around each identified item.
PMHA spent years developing our current system with best practice rules for eligibility, some general and others very specific for our region (PA/NY) and payers. This was to ensure we were capturing and meeting the needs of our members, putting stops in place to provide clean claims with accuracy in patient demographics, patient insurance information, and all-around front end, point of service, or preservice access points.
PMHA also designed algorithms for back-end billing workflow to optimize biller functions for cash acceleration and appropriate reimbursement.
Dashboards at the combined member level is important as we spend a great deal of time manually compiling reports daily, weekly, and monthly at the facility level and with members in totality. I was looking for automation from a PMHA 'control center' level to be able to drill down to the specific detail where leaders can review by hospital and all intervals through PMHA. This automation is something we didn't have, due to multiple databases.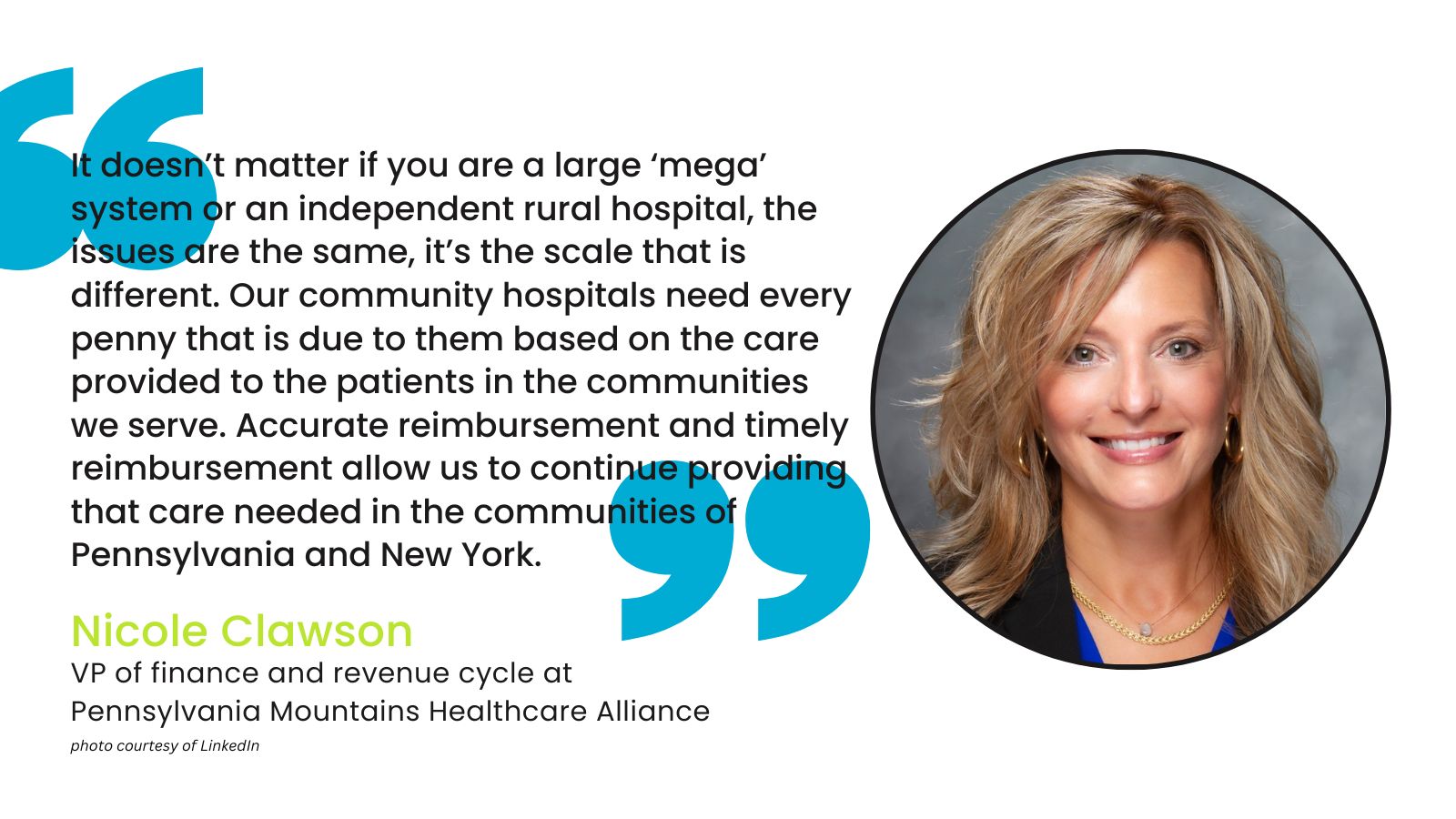 HealthLeaders: Since PMHA has such complex databases, would you say that was your main driver for considering new technology?
Clawson: Yes, we found one vendor that could provide everything we were looking for in the capability for us at PMHA to continue to maintain our custom rules, management of the systems provided with that automation and dashboard functionality that would set our member hospitals apart from others. FinThrive, our vendor for this project, also has an understanding our model at PMHA, one that involves complete oversight of the systems we use.
Aside from the technical 'boxes' the vendor checked off for us, an equally driving force that made it stand out above the rest was the partnership. We felt in the vendor review, they came out as best in class, that partner or ally, with a willingness to give us the ability to continue our expertise that we provide to our members in systems and operations to continue to be the administrators over the technology, filtering any requests through PMHA from our members for approvals and processing.
They provided that level of advanced technology, customer service, and collaboration. We have been a long-standing customer in their claims management and charge master product lines, so expanding into an end-to-end solution was our end goal.
HealthLeaders: What about an end-to-end solution appealed to you versus taking a more granular approach to streamlining processes?
Clawson: The integration of data, the ability to loop the front end, data quality, and eligibility to the back end in payments, denials, collections, and everything in between made the difference. Being able to analyze that data and find the root cause for denials or payment issues and correct it going forward to eliminate the issue. I prioritize and focus on prevention.
It doesn't matter if you are a large 'mega' system or an independent rural hospital, the issues are the same, it's the scale that is different. Our community hospitals need every penny that is due to them based on the care provided to the patients in the communities we serve. Accurate reimbursement and timely reimbursement allow us to continue providing that care needed in the communities of Pennsylvania and New York.
Grouping the products we utilize in revenue cycle systems and technology with this end-to-end solution was important for premier pricing. Using the leverage of the membership as a whole when contracting is also important and a standard process in the revenue cycle divisions of PMHA.
HealthLeaders: Why did you choose this particular platform for your organization? What made it such a good fit?
Clawson: It was chosen due to its ability to provide a true end to end solution. We not only needed what I would call the standard products: data quality, eligibility, denials management, collections, and billing workflow but our other division, contract management and payer relations, was being manually managed and in need of a system.
We were able to get all the products and modules we needed within the platform with all of the functionality and capabilities desired and incorporate it with those products we already had.
HealthLeaders: What is the process of implementing this new platform like? Who is involved with the decision making and why?
Clawson: For myself and our organization, it was inclusiveness. What I mean by that is its important to include our members at different levels within our year-long system strategy task force. A committee that included our core PMHA leadership team and various member hospital employees for those within the shared service management division and member hospitals in general. We had members of managers, directors, and CFOs of our hospitals all involved in the decision making.
We wanted a partner who again understood our model at PMHA, so we did a deep dive into vendor selection that included interviews with over 15 companies, those we considered through research to be the highest ranking in revenue cycle technology. We wanted a company that invested in technology and provided the efficiencies we needed and were looking for.
Overall, it was methodical, we were not going to rush into making a selection. We narrowed it down to three vendors and included all levels of the revenue cycle staff at our shared service hospitals to demo each of the products.
Amanda Norris is the Associate Content Manager of Finance, Payer, Revenue Cycle, and Strategy for HealthLeaders.
---
KEY TAKEAWAYS
When budgets are tight, leaders need to be strategic when investing in technology. Because cost efficiency is so important, healthcare systems and hospitals alike need to get a lot of bang for their buck when considering technology—ROI is always key.
PMHA is complex with member hospitals with different operating systems and staff. It needed a way to merge and loop the data to provide analysis and identify trends per hospital in order to rectify and create process around each identified item while being cognizant of costs.