The second class of healthcare startups starts in November.
Call it "this old hospital" by the banks of the Ohio River in the Pittsburgh area, if you must. But Suburban General Hospital, essentially shuttered three years ago, has been reborn recently as a healthcare startup accelerator, enjoying the benefits of hospital-grade facilities.
Jeff Cohen, MD, who first came to Pittsburgh in 1985, saw the demise of Suburban General firsthand, but now finds himself the executive in charge of the birth of AlphaLab Health, a new accelerator supporting early-stage startups in their efforts to bring innovations to market, navigating key risk points of scientific, clinical, and commercial development.
"When I first came to Pittsburgh in 1985, it was the downturn of the steel industry, and I would see all these men that were unemployed steel workers," Cohen says. "A large part of the Steeler nation came from people that just got jobs and went elsewhere, but they were always Steelers fans."
After weathering double-digit unemployment rates, the region began to be seen differently.
"It evolved into a med-bed economy," Cohen says. "A lot of that was the perseverance of the educational infrastructure in the regionand the philanthropic community, is quite substantial." Hospital consolidation in the region followed, as detailed in The Next Shift: The Fall of Industry and the Rise of Health Care in the Rust Belt, by Gabriel Winant.
"Long story short, we lost ten hospitals in this area in about the last ten years, and the question is, what do you do with a closed hospital?" Cohen says. At the time, he was president of Allegheny General Hospital, located six miles sound of the shuttered Suburban General campus, which AGH owned. AGH continues to handle some of the most complex healthcare cases in the state.
By 2018, the 240,000-square-foot Suburban General facility was entirely closed, except for 18,000 square feet of minimal usage, including an urgent care center. "You could sell it, but it's not worth a lot," Cohen says. "It's part of the bond covenants, so it's hard to get rid of. It sits in a very poor community, which during the steel days was an upper middle-class community."
Leadership decided to launch a "study in disruption," to spawn new healthcare startup companies amidst this economically depressed community, focusing on making a dent in the kind of social determinants of health that healthcare at large has focused on lately.
Cohen assumed the title of chief physician executive of community health and innovation for the Allegheny Health Network, which in 2013 became a division of Highmark Health.
Thus AlphaLab Health was born.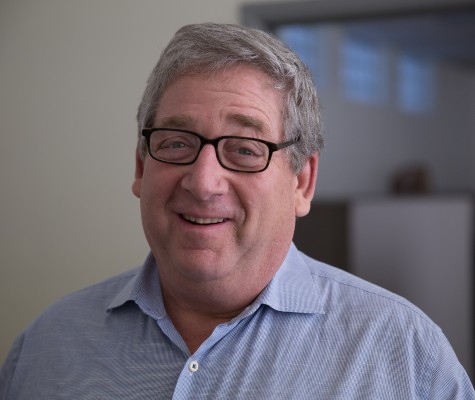 Jeff Cohen, MD, chief physician executive, community health and innovation, Allegheny Health Network. Photo courtesy of AHN.
"The biggest advantage that hospitals have is they have to have life safety equipment in them, specifically HVAC systems equivalent to BSL-1 and BSL-2" biosafety levels, Cohen says.
Starting the week of October 13, AlphaLab Health is converting a former 10,000-foot ICU into wet lab space, he says. "We're getting the preamble together to do all that – the zoning, changing the usage," he says.
In exchange for low-cost use of the facilities, access to AHN's 2,000 physicians, as well as patients, space to test their innovations, and introductions to the greater Pittsburgh life sciences community and beyond, AlphaLab Health takes a minimum of 1% to 2% equity stake in each startup. "[Additionally] we mentor them in the areas that they need to worry about in the healthcare system," Cohen says. The non-profit startups get access to some facilities, such as lab space, for "essentially zero," cost, he adds.
AHN being owned by Highmark, a payer organization, also gives startups insights into the economics of healthcare, and for this, AlphaLab Health does not take the lion's share of equity that other venture capitalists demand of startups.
"Specifically, the University of Pittsburgh's model is they have to own everything, and I'm not being critical," Cohen says. 
AlphaLab Health received about 80 applications before selecting the first class of seven startups, mostly mentored virtually in the first year of the program. As an early measure of success, the startups have raised more money between themselves than AlphaLab Health expected in its original business case, Cohen says.
The next phase of startup development is choosing six more start-ups out of 130 applications, at the beginning of November. "We're stimulating interest in this region," Cohen says. "For the Pittsburgh region, this is a place that you can go and try your idea. If it's going to work, great. If it isn't, you're going to fail fast, and you're not going to spend all the money on amenities like real estate."
It's also worth noting that Pittsburgh's life sciences sector is already 150 companies strong with a concentration in medical devices and healthcare tech. According to AHN, from 2009 to 2019, the sector saw 204 company expansions resulting in 22K+ life science jobs being created and retained, along with nearly $4 billion in capital.
AlphaLab Health won't just be injecting healthcare tech into the Pittsburgh community, either.
"Hospitals have kitchens, and kitchens feed people that are food insecure," Cohen says. "We have other facilities that we can stand up programs in. We can actually measure the outcomes, and we're starting to see an abatement of cost of ER usage for people by doing something novel like dealing with their social determinants and feeding them."
The cost of living is "still very acceptable" in Pittsburgh, and Cohen hopes the startups decide to remain in the Pittsburgh area, revitalizing its economy.
"If their ideas are successful, we're going to create [investment] rounds to get them to the minimal viable product proof of concept," he says.
The old hospital even lends itself to being spruced up for little money to accommodate the needs of startups.
"We took the old patient rooms, cleaned them up, took out the beds, stuff like that," Cohen says. Add some paint, and some of the ample office furniture retrieved from warehouses, and "it looks like an office with a private bathroom," he adds. Add a $300 TV on the wall of a larger room and "all of a sudden, you've got a first-rate conference room." There's ample parking outside, too.
"It's been a very fun project," Cohen says. "It just points out that there is a relationship between healthcare outcomes and economics as the hospital closes. The actual physical three-dimensional building can be repurposed for a lot of things."
The effort has even garnered national attention, because AHN can do all this at a highly competitive price point, he adds.
Editor's note: This story was updated on October 15, 2021.
"For the Pittsburgh region, this is a place that you can go and try your idea. If it's going to work, great. If it isn't, you're going to fail fast, and you're not going to spend all the money on amenities like real estate."
Scott Mace is a contributing writer for HealthLeaders.
---
KEY TAKEAWAYS
AlphaLab takes 1% to 2% equity in early-stage startups, who gain mentorship and access to 2,000 physicians in AHN's Pittsburgh network.
The "study in disruption" is repurposing a 10,000-foot ICU as a wet lab space for startups.
Focus on social determinants of health of some startups will be augmented by ability of the facility to feed patient cohorts, as part of proofs of concept, via existing kitchens.