How has the pandemic reshaped healthcare staffing? What sort of challenges are hospitals and health systems facing now? The key to success is understanding these critical issues and formulating a plan to address them.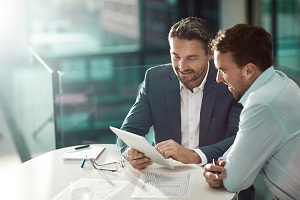 Healthcare staffing shortages can make it harder to find skilled talent, and facilities face higher bill rates too. Compounding this is the burnout associated with factors such as unsafe staffing levels and lack of professional development, felt mostly by early to mid-career clinicians.
"We continue to see a significant clinician shortage that existed well before the pandemic," said Medical Solutions Sr. Director of Client Growth Scott Armstrong. "Over the past two years, COVID further exasperated the issue and really placed it under a microscope and at the forefront of all of our conversations."
Health systems must look for a workforce partner who has made adjustments due to how factors have changed since the pandemic. It's time to shift business strategies!
Business Strategy Shifts
Staffing is no longer transactional. To be successful, you need a strategic workforce solutions partner who will provide consultative insight and guidance with real-time data to help you make decisions that go beyond simply filling jobs. This partner will help you drive decision-making, find opportunities to cut costs, and stop overpaying in situations where clinicians are in abundance due to a common specialty or the popularity of the location.
Utilize Data Analytics
The right workforce solutions partner provides you with real-time analytics to help inform staffing decisions, understand current market trends, and make more strategic, data-driven choices. They also help you understand job volumes, supply and demand, program efficiency, and many other performance and trend indicator metrics.
"What you do today, even if you're doing it really well, might not be what is needed in the future," said Medical Solutions Vice President of Client Success Kevin Walsh.
Predict Healthcare Staffing Supply and Demand
Effective healthcare leaders are embracing the use of predictive modeling through machine learning to more accurately determine anticipated workforce needs in the future. Predictive modeling helps facilities resolve a number of issues such as ensuring they have enough labor supply to fill their demand, without overpaying or underpaying.
It's no longer enough to use traditional forecasting methods like basic spreadsheets or now outdated acuity tracking tools. You need machine learning technologies to analyze and process data differently, to give you a comprehensive predictive model to determine your needs now and in the future.
Pay Attention to How Clinicians Want to Work
Another pandemic-fueled strategy shift for you to consider is how younger generations think about their job and overall careers—they are always looking for advancement that can oftentimes be achieved by changing jobs multiple times to gain experience.
Also, regardless of which generation they come from, your staff is looking for flexibility. This is why it's so important that when choosing your workforce solutions partner, you work with one that offers access to multiple supply channels— permanent, per diem, travelers, interim leadership—and one that can help you manage your internal traveler program.
Provide Quality Care
Quality patient care is always the focus. Your workforce solutions partner should understand this and have proven methodologies in place to ensure clinicians have the right experience, skill set, and commitment to supporting the values of putting patients first. It's also good to work with a partner who knows the importance of putting technology platforms at the forefront of your needs while ensuring that human interaction remains a vital component.
Evaluating Your Workforce Solutions Partner
Observations over the last few years have revealed how the pandemic has exacerbated staffing challenges, how health systems need more comprehensive support, and how machine learning and data analytics continue to grow in importance as well as applicability.
Here's what to ask when evaluating your workforce solutions partner:
Does your workforce partner have a deep understanding of the market ecosystem, both where it's been and where it's going?
Is your partner agile enough to quickly adapt to the changing market conditions?
Does your partner prioritize your success and evolve with you by investing in technology and people?
Does your partner have access to machine learning and data analytics to validate all its recommendations?
Armstrong and Walsh both acknowledge how clear it is that leaders cannot get by with the solutions, resources, or approaches that were seen prior to the pandemic. It's important that hospitals and health systems are mindful of making necessary adjustments to ensure they are set up for success, so their clinicians feel supported, and they have better patient outcomes.

Medical Solutions places quality nurses, allied health professionals, and interim clinical leaders in contingent, permanent, local, and per diem positions.