USC's online program scored high in engagement, faculty credentials, peer assessment, and more, U.S. News & World Report says.
The University of South Carolina's online masters in nursing program ranks No. 1 among online nursing master's programs in U.S. News & World Report's 2023 Best Online Programs, released today.
The No. 2 spot was a three-way tie. Duke and Ohio State University, who previously were No. 5 and No. 1, respectively, tied with the University of Alabama, which previously was No. 11. Saint Xavier University rounds out the Top 5.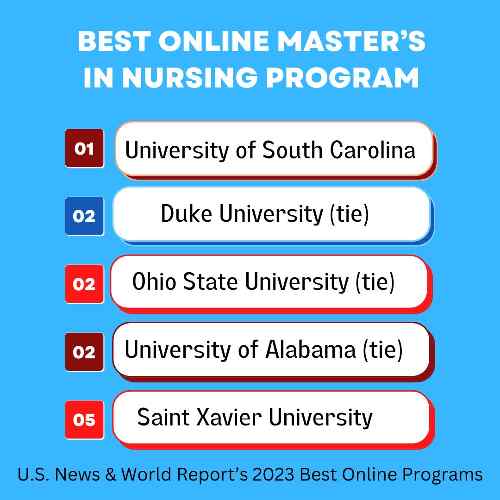 The purpose of the Best Online Programs rankings is to measure whether online degree programs' academic standards are consistent with quality brick-and-mortar programs and properly adapted toward the unique learning of distance education.
U.S. News ranked nursing schools using five categories. The categories, with its weight in the ranking formula were:
● Engagement (30%): Aspiring advanced practice nurses can readily collaborate with fellow students in their classes and clinical settings. Instructors are accessible, responsive, and help students stay enrolled and complete their degrees in a reasonable amount of time.
Factors included graduation rate, best practices, class size, one-year retention rates, and time to degree deadline.
● Faculty credentials and training (20%): Instructors' academic credentials mirror those of instructors for campus-based programs, and they have the resources to train these instructors to teach distance learners.
Factors included preparedness to teach distance learners, terminal degree faculty, and tenured faculty.
● Peer assessment (20%): A survey of high-ranking academic officials in nursing helps account for intangible factors affecting program quality that statistics do not capture.
Factors included the school's weighted mean of scores on a 1 to 5 scale as rated by administrators and academics at online master's in nursing degree programs.
● Services and technologies (20%): Programs that incorporate diverse online learning technologies allow greater flexibility for students to take classes from a distance. Strong support structures provide learning assistance, career guidance, and financial aid resources.
Factors included student indebtedness, support services, and technological infrastructure.
● Student excellence (10%): Student bodies entering with proven aptitudes, ambitions, and accomplishments can handle the demands of rigorous coursework.
Factors included acceptance rates, experience, and undergraduate GPA.
Carol Davis is the Nursing Editor at HealthLeaders, an HCPro brand.
---
KEY TAKEAWAYS
The ranking measures if online degree programs' academic standards are consistent with quality brick-and-mortar programs.
Three universities tied for the No. 2 spot in the ranking.
Nursing schools were ranked using five categories.