Finding a better way to improve the lives of patients is Tak's lifelong mission.
Editor's note:This article appears in the March 2023 edition of HealthLeaders magazine.
The CEO of viral immunotherapy company Candel Therapeutics, Paul Peter Tak, MD, PhD, enjoys exploring the world with his family, experiencing different cultures, and discovering new perspectives and approaches to both life and business. Adventure travel is his passion, and he has taken his children since they were young on trips, for example, to Borneo, Malaysia, Namibia, and Ecuador. "We've been to many places, from Latin America to Africa," he says.
Tak's family lives internationally; he and his wife live part-time in different countries, as do his four children.
"Half of our children are in the Netherlands, half are in England, my wife is in England, and I commute between England and the U.S.," he says.
This exposure to multiple cultures not only enhances his life, but also provides him with a world view toward business and leadership.
"You always learn from other people, other cultures," he says. "And you can always find better ways of doing something in one part of the world compared to another."
Throughout his diverse career, from physician to academic, from big pharma to small biotech leader, his mission has been steadfastly the same: improve the lives of patients.
In just two years at the helm at Candel, Tak has made great strides toward this goal.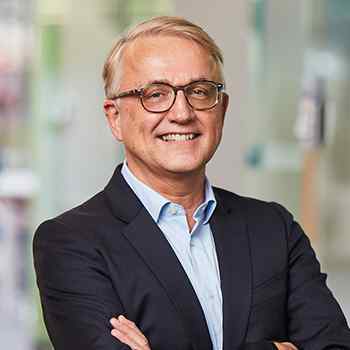 Paul Peter Tak, MD, PhD, is the CEO at Candel Therapeutics. Photo courtesy of Candel Therapeutics.
He has led the clinical stage biopharmaceutical company that develops oncolytic viral immunotherapies to fight cancer. Candel's engineered viruses induce a systemic anti-tumor response against the injected tumor and uninjected distant metastases. In other words, the company is discovering a new way to beat hard-to-treat cancers.
Within that limited timeframe, Tak has guided the ongoing development of two oncolytic viral immunotherapy platforms based on novel, genetically modified adenovirus and herpes simplex virus constructs. CAN-2409 is the lead product candidate from the adenovirus platform and CAN-3110 is the lead product candidate from the herpes simplex virus platform.
Just last month, CAN-2409 earned a nod from European Medicines Agency (EMA) Committee for Orphan Medical Products for the treatment of glioma. In the U.S., CAN-2409 earned FDA fast track designation in June 2021.
At this year's ASCO meeting, Candel's Co-Principal Investigator Charu Aggarwal, MD, MPH, associate professor at Perelman School of Medicine, University of Pennsylvania, presented clinical outcomes from its phase 2 clinical trial for CAN-2409 and valacyclovir in combination with anti-PD-1 or PD-L1 agents in patients with stage III/IV non-small cell lung cancer. Tak is "super excited" about the results, which show that CAN-2409 injected into tumors achieved disease control in 87.5% of the patients in the trial and improve uninjected metastases.
"That means we were able to convert progressive disease into stable disease, the tumors stopped growing, and that is expected to be associated with improved survival," he says. "It's still a relatively small number of patients, but we will have more new data and a new cohort of patients in December this year."
CAN-2409 is also being evaluated in multiple phase 2 and phase 3 clinical trials for brain, pancreatic, and prostate cancers.
In June 2021, Candel reported preliminary clinical data which showed the ability of CAN-3110 to induce immune activation both locally in the tumor microenvironment and systemically in peripheral blood. Data on a new cohort of 11 patients will be presented in November this year.
The promise of these two candidates inspired Tak to take the president and CEO position at Candel, as he predicts they will be transformational in the treatment of hard-to-treat cancers. "I had confidence that both of these two investigational medicines have huge potential and I wanted to lead this company through the massive change to get everything ready for this stage," he says. "It is so satisfying when you can actually advance a new paradigm in science and have an impact on patients' lives, especially as a physician who tries to better the life of patients."
Under his leadership, the company went public in July of 2021 and evolved from an unknown company to a recognized contender in viral immunotherapy with a new discovery platform, the enLIGHTENTM Discovery Platform. It was recently announced that world-leading scientists at the University of Pennsylvania have partnered with Candel in discovery.
Once onboard, Tak set about building a heavy-hitting leadership team, recruiting colleagues from all over the world.
"We have a top executive team and a research advisory board with people like Jim Allison, the Nobel Prize Laureate. Special advisors include the former CMO of Pfizer, Mace Rothenberg, MD; and Carrie S. Cox, one of the top 50 most powerful business leaders in the world," Tak says. Also this year, Candel added Seshu Tyagarajan, PhD, as chief technical and development officer; Francesca Barone, MD, PhD, as chief scientific officer; Jason A. Amello as CFO; and Garrett Nichols, MD, MS, as CMO. Very recently Renee Gaeta; Gary Nabel, MD, PhD; and Joe Papa joined the Board of Directors.
"There's a reason that all these people want to join us, because they see the same potential as I saw two years ago," Tak says.
A born leader
Tak has been an active leader from a young age, organizing groups, teams, and activities even as a child. Lessons about leadership started when listening to his father around the dinner table, and he developed his skills wisely over time.
"I'm open to listening to new ideas, and then I will test them in a rigorous way, and then reject probably 97% of them. But this mindset has helped me to discover and develop new concepts in academia, in big pharma, and also in biotech."
Tak is a firm believer of being accessible as a leader and says the role of the CEO should be largely externally facing. "Part of the job of a CEO in biotech is to talk more about what we are trying to achieve in medicine and in science, so that people understand it," he says.
"As a leader, you need to be able to share, with the external community, the excitement that we feel, including with pharmaceutical companies that could become partners in the future."
Tak's personal motivation comes from his start as a physician, when he wanted to treat patients so that their lives could be enjoyed.
As a treating physician and academic, I have always had a laser focus on improving patients' lives," he says. "At some point, I decided to move to the pharmaceutical industry to have a bigger impact. Imagine what you can achieve if you develop a medicine that improves the lives of millions of patients? In my roles as senior vice president, chief immunology officer, and global development leader of GlaxoSmithKline, I learned a lot about drug discovery and development and how to lead at scale. I have subsequently used my experience as a clinician, academic, and pharma R&D leader to discover and develop new investigational medicines at a faster pace in the biotech environment."
When Tak is not breaking ground on lifesaving cancer treatments, or taking exciting adventure excursions, he says he enjoys partaking in the creative arts. One daughter, perhaps following his creative footsteps, was a professional ballerina and is now an arts student.
"I like the world of art. I like music. I like dancing. I like good food," he says. "In another life, I would perhaps have loved to have been an artist. However, one uses a lot of creativity in science and leadership."

Editor's note: This story was updated on November 9, 2022.
"I'm open to listening to new ideas, and then I will test them in a rigorous way, and then reject probably 97% of them. But this mindset has helped me to discover and develop what I've done in academia, in Big Pharma and also in biotech."
Robin Robinson is a contributing writer for HealthLeaders.
---
KEY TAKEAWAYS
Tak has led the late clinical stage biopharmaceutical company that uses oncolytic viral immunotherapies to fight cancer.
Candel's engineered viruses induce immunogenic cell death through direct viral-mediated cytotoxicity in cancer cells.
The process releases tumor neo-antigens while creating a pro-inflammatory microenvironment at the site of injection.
In other words, the company is discovering a new way to beat hard-to-treat cancers.