UMass Memorial Health CEO Eric Dickson, MD, MHCM, details the innovative ways in which the Massachusetts health system has broken down the barriers of care for the communities it serves.
It's been a decade since Eric Dickson, MD, MHCM, became president and CEO of UMass Memorial Health (UMMH), a $3.3 billion nonprofit health system in central Massachusetts. Following his appointment in 2013, he continued to practice as an emergency physician, which has influenced his leadership in numerous ways.
The health system consists of four owned hospitals across 10 campuses with more than 1,000 licensed beds, four affiliated hospitals, and 70 community practice offices, caring for communities across the greater Worcester region. It also has a behavioral health agency and hospital, six urgent care centers, and an Accountable Care Organization, as well as a partnership with the University of Massachusetts Medical School, where Dickson teaches emergency medicine.
In a recent interview with HealthLeaders, Dickson details the innovative ways in which UMMH breaks down the barriers of care for its communities, which includes BIPOC, immigrant, and low-income communities living in and around Worcester.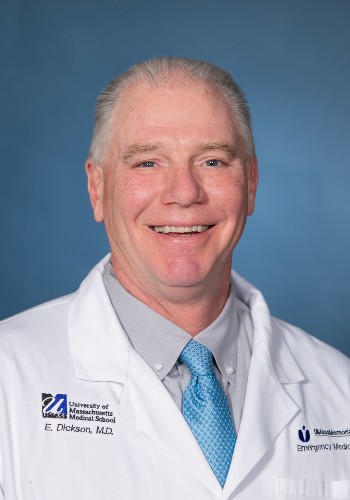 Eric Dickson, MD, MHCM, President and CEO, UMass Memorial Health. Photo courtesy of UMass Memorial Health.
1. Serving the Underserved at Home and Abroad
As an emergency physician, Dickson says he felt like he was in touch with the community because the ER is where community members come to get needed care. But that wasn't necessarily the case, and the COVID-19 pandemic was a lesson in continuing to reach out to underserved communities.
"When COVID hit, and we started spending more time on the ambulances and going out with the vaccination teams with our care mobile, and even now with our mobile Addiction Treatment Center, I realized that I didn't really understand the community as well as I thought I did," he said. "The trip to the ER is a massive burden and you don't touch [all] the people that need help [in the community]."
During the pandemic, Dickson joined UMMH care teams to administer vaccines to low-income neighborhoods in Worcester.
"Going door-to-door, knocking and asking people [often through an interpreter] if they'd like to get the COVID vaccine. And people that were never going to get that vaccine, and some of which [who could have died due to the virus], said 'Oh, yes, please,'" he said.
"If you really want to get to those communities, many of which are afraid to leave their neighborhood, especially if they're non-English-speaking, then you're going to [have to] go right to where they live," he said. "More and more that's what we're trying to do."
He added, "It's really embracing [my] ignorance and asking them what we can do to help."
One of the communities that UMMH and Dickson are focusing on helping is the Ghanaian population that resides in and around Worcester.
"[Ghanaian immigrants] are 5,000 times more likely to end up in Worcester than any other city in the nation," he said. "We want to get in touch with this population. I need to understand how better to care for them. I want employees that are [of] Ghanaian heritage to be proud to be a part of UMass Memorial."
Instead of telling the community what the organization was going to do for them, Dickson said, they asked what the organization could do to help.
"We met with all their pastors and their churches, and we did employee resource groups, and [we found out the community] wanted some very simple things," he said.
"[Recently we had] some of our caregivers in Ghana, taking care of people there, because that was one of the things that was important to [our community]. The most important message is you have to meet the people where they live [to care for] underserved populations."
Additionally, Dickson said, the plan is to follow up on additional feedback the system received from the Ghanaian community.
"We were told by their feedback, 'We'd love a food pantry in our church,'" he said. "'We'd love some free medical care within our church: checkups, blood pressure checks, physicals. We'd like help for family and friends in Ghana.'"
The health system also does job fairs in the community with an interpreter and helps Ghanaian community members with the application process onsite, which has helped the system with hiring candidates and has given the community employment opportunities.
2. 100,000 Ideas: Putting Frontline Ideas Into Action
Dickson's experience as an emergency physician gives him an edge during difficult situations because he is used to making decisions fast.
"Emergency physicians are constantly put in a position where they have to make decisions with limited amounts of information," he said. "If somebody comes in, they're sick, you have to deal with that. And you don't always know what's going on. I think the same thing is true as a CEO, that a lot of times you just need to decide, you need to move. If you don't have all the information you want in chaotic times, like now and certainly during COVID, I think that style works really well."
But he's also trying to balance the emergency position with having the chance to slow down now that times are less hectic.
"I've had to take a little bit of the ER medicine out of me…into the way I lead here," he said.
During the pandemic, his emergency physician background and his proactive approach to talent development put the health system in a good place. Methods such as LEAN and problem solving were put in place during the past several years prior to the pandemic, which helped staff take care of their patients and each other. And those learnings really hit home during COVID.
"Massachusetts was the fourth hardest-hit state in the nation," he said. "We were hit early, we were hit hard. And for us, it really solidified the team."
He added: "For us, it seemed like we had almost seven years of my time here getting ready for COVID. And then when it hit, we used all the talents and the development tools we had been training people to do, things like the DCU Center Field Hospital, the vaccination mobile where we go into underserved neighborhoods, the vaccination center in downtown Worcester. We train everybody in process improvement on the way in the door and we want everyone here to be a problem solver, to be thinking like an industrial engineer. It really paid off during COVID and it's one of the reasons that we shined so brightly during all of it."
Dickson also shared an initiative that has enabled him to learn the wants and needs directly from frontline staff.
"One of the things that I established as CEO on day one was an idea system that engaged our frontline workforce and asked them how we can improve," he said. "And over the 10 years that I've been CEO, we've implemented over 100,000 ideas from the frontline workforce. These are things to make care safer for our patients, caregiving safer for our caregivers, ways to enhance the patient experience, [and] ways to enhance the caregiver experience here."
"The ideas add up to transforming the organization to an organization that really embraces innovation, and finding new and better ways to do things," he said. "My favorite tagline, that is written on chocolate bars that I run around and hand out, is 'Thanks for taking great care of our patients and one another.' And right now, even more so than 10 years ago, that's absolutely critical."
3. Executing A Strong Vision for The Hospital of the Future
Dickson looks to the Hospital at Home programs as a way to shift away from the current healthcare model of taking care of people in the hospital.
"I'm a big supporter of [Community] Paramedicine and using paramedics to care for people in their homes," he said. "During COVID, we started caring for people in their home that required hospital-level care. What we've learned is that people do better in their homes. People don't get hospital-acquired infections when they're in their home. People have access to their culturally appropriate nutrition and food and family when they're in their home. They sleep better. There are people that can come visit them."
This inspired the organization to start a Hospital at Home program that uses paramedics, nurses, virtual doctors, and in-person doctors to care for people in their homes. And so far, those patients are having much better outcomes, according to Dickson.
"We're extending that out to something called Mobile Integrated Health," he said. In this model, patients can call an ambulance or their doctor, and an ambulance will be sent out to assess the patient, while a doctor is virtually assisting the paramedics. This enables the paramedics to get vital sign information and labs without the patients needing to leave their home. This eliminates spending hours in the ER waiting room, and if a patient needs to be seen right away, they can be brought to the hospital by ambulance.
"[Currently] we do that for free, [but] we won't be able to do it for free forever," he said. "We've got to build a business model around that working with the insurance companies. I can tell you we're saving a lot, we're delivering better care to the patient, and we're saving the insurance companies a lot of money by being able to do this. I love these kinds of projects that are new, innovative, [and] disruptive … Healthcare needs that right now."
"Healthcare is in trouble right now. Big trouble," Dickson said. "The challenge is that we're trying to go back to doing it the old way."
"Our ability to move patients through the bricks and mortar hospital to a nursing home or to a skilled nursing facility has slowed because the nursing homes don't have staff, so we have patients staying in the hospital longer," he said. "We don't get paid by the day, we get paid by the admission. Financially, hospitals across the state are all losing money at an unbelievable rate and UMass Memorial isn't any different. And now you've got an aging population, so more patients, and you've got doctors and nurses aging out."
"My vision for UMass Memorial Health is to do everything we can for our patients, to keep them home healthy and their chronic disease managed," he added. "That's doing everything we can to leverage digital medicine, wearables, virtual visits, paramedic visits in the home, [and] Hospital at Home level care."
"We need as few people as possible to end up in the bricks-and-mortar hospitals," Dickson concluded. "In many ways, I want to put our hospitals out of business because we've been able to keep people healthy or provide care in the home. For that to happen, we need to think more like a 'payvider' instead of trying to increase revenue by patient visits. We're trying to decrease expenses by decreasing patient visits that are unnecessary. It's a model whose time has come, and it is a model that best aligns with our mission to improve the health of diverse populations. Our mission is not to take care of sick people, even though that's most of what we do. Our mission is to improve the health of the people of this region and we're going to leverage every asset and every great idea that we have to do just that."
Editor's note: This story was updated on April 27, 2023.
"Our mission is to improve the health of the people of this region and we're going to leverage every asset and every great idea that we have to do just that."
Melanie Blackman is a contributing editor for strategy, marketing, and human resources at HealthLeaders, an HCPro brand.
Photo credit: UMass Memorial Medical Center's University Campus. Photo courtesy of UMass Memorial Health.