Carol Lovin, MHSA, MA, chief of staff and chief integration officer for Advocate Health, speaks about the power of teamwork and the integration that's ahead for the system this year.
Editor's note: This conversation is a transcript from an episode of the HealthLeaders Podcast. Audio of the full interview can be found here and below.
At the end of December 2022, Advocate Aurora Health and Atrium Health completed their merger to create Advocate Health, a nonprofit health system serving patients across Alabama, Georgia, Illinois, North Carolina, South Carolina, and Wisconsin. The combined system, headquartered in Charlotte, North Carolina, has 67 hospitals and more than a thousand sites of care and is the fifth largest nonprofit health system in the country.
Carol Lovin, MHSA, MN, executive vice president, chief of staff, and chief integration officer for Advocate Health, recently connected with HealthLeaders to talk about the integration that will be done in 2023 to bring the health system together, while the legacy providers continue to deliver care under their consumer-facing brands.
During the interview, she also shared her career journey from nurse to executive leader, talked about how the power of teamwork and tribulations makes great leaders, and offered advice for aspiring healthcare professionals.
This transcript has been edited for clarity and brevity.
HealthLeaders: Can you share a bit about your personal background as well as your professional background?
Carol Lovin: In many cases, people pursue careers in something they're familiar with. And when I went to college, most women pursued either teaching or nursing, and only in the past few decades really would you see the potential that you could really have by dreaming big if you wanted to be a working woman.
For me, I always wanted to be a nurse, because I had an aunt at the time who was a missionary nurse in Haiti, and healthcare was just in my blood. Being from rural South Dakota, I moved away for college, and upon becoming a nurse, my dream job was to work at the time at an open-heart surgery unit. So when I graduated, I went to Denver as a med-surg nurse, and then within a year I was working in all the critical care units, including cardiac surgery. That was a lot of fun for me.
Every day I took care of sick patients with multiple diseases, and I loved it. But after a while, and I remember the day and the patient I was with when this thought crossed my mind, [I said to myself] 'I want to make a difference on the front side—this is such important work—but what if I could make a difference on the side before the disease starts or managing chronic illnesses?' It was at that point when I decided to become a nurse practitioner, and I went back to get my Master's at the University of Washington.
When I was working as a nurse practitioner, I still loved the acute care side. And I always kept my hand [in it] a little bit, and the hospital I was at asked me to work part-time as a night nursing supervisor. I realized then that there was something special about the business side of healthcare, too, because you could impact so many in such a short time. I decided to pursue a second Master's in health services administration at the University of Michigan.
Then we moved to North Carolina and I took a break to spend time with my three children, and later began working for one of the local hospitals doing special projects for the CEO, part-time, because I thought I just have to get back into work part-time. But it didn't take long and that part-time went to full time, and the full time went to full speed. I achieved my first executive role at that hospital as the vice president for strategy and market development. That was an important moment, because that hospital was acquired by the system that eventually became Atrium Health. That was a while back—it was in 2007— and I've been here with this system ever since.
Now we're Advocate Health after our closing in December to combine Atrium Health in the southeast and Advocate Aurora Health in the midwest. We're the fifth largest not for profit health system in the country.
I have been given such tremendous opportunities to grow professionally, to lead great teams and be a part of great teams. For example, at Atrium, I was the president of our internal consulting group. I later became the chief strategy officer with responsibilities for strategy and marketing communications. Also at that time, [I had] the opportunity to launch several new system teams like LEAN, data analytics, [and] innovation, and now [I'm] in the role of executive vice president, chief of staff, and chief integration officer for Advocate Health.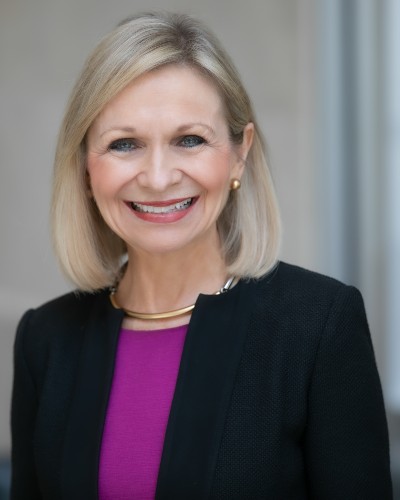 Carol Lovin, MHSA, MA, chief of staff and chief integration officer for Advocate Health. Photo courtesy of Advocate Health.
HL: How has your leadership style evolved from working as a nurse and NP to working in executive roles? How does your nursing background affect your current leadership style?
Lovin: Being on the clinical side and being a nurse delivering care, you never forget that. I always say my favorite people to work with are doctors, because it's just the nurse in me. I'm just fascinated by the clinical side. I'm sure I could, but it's hard to imagine doing the work that I do without having that firsthand knowledge and experience on the clinical side.
But what really brought me to this point is that the hospital system that I was at was acquired by what [was] Atrium Health, and that was in 2007. If you call it faith, or if you call it something else, it certainly turned out to be a move that totally defined my career. I couldn't be more excited than to be in the position that I am today.
I have a lot of people say to me, 'You've never really left that organization.' Well, I did, if you go way back in my career. But a lot of people think that you have to change organizations to grow and develop as a leader, and that's just not my experience. Because in many ways, I feel like I have changed organizations. Atrium Health changed so much over the years, and now Advocate Health is poised for limitless opportunities. Throughout these changes, it's been my goal to always run [toward] change and not away from it. With that in mind, I've just always continually been challenged with new opportunities that continue to stretch me.
Regarding leadership and role models, I just feel like I've had the privilege of learning from the best. Right now the privilege to work with Gene Woods and Jim Scottsburg, our Advocate Health CEOs, is a once-in-a-lifetime opportunity. These are two great healthcare leaders that now are running Advocate Health. The impact on my leadership style of all these experiences within the same organization has been, first and foremost, it's all about the team. I've learned that being a good team leader requires that I be a great team member.
Working on the integration side, we have these guiding principles we always use when we start an integration that we carry through with us:
1. Always assume virtuous intent. Whether you're a team leader or whether you're a team member, that simple principle has shaped my thinking and my actions.
2. Leadership is about influence. It's easier to influence through hierarchy when you're working with your direct reports or your team, but I've come to believe that leadership is at the next level when a leader can influence without a reporting relationship.
3. [Value] the differences in people. My goal is to always get to know someone first. Understanding where they're coming from, how they work, how they value, what they value, how they communicate, [makes] a big difference in how you work with people.
On the personal side, a couple of things have shaped my leadership style over the years and helped it evolve. One of them is being a parent and one of them is receiving a cancer diagnosis.
In 2004 I was driving home, and I tucked my hair behind my ear, and I felt a hard lump behind my ear about the size of a pea. I had stage three malignant melanoma. Melanoma is the worst kind of skin cancer you can get, and it had spread to my lymph nodes. For the next 15 months, I had everything including surgery, a year of interferon, which is immunotherapy but has the same effects as chemotherapy, and doing everything humanly possible to take care of myself and my kids, because I just didn't know what the future held.
What I realized then, and it's shaped my leadership now in healthcare, is when you work in healthcare you have to take care of your own. I was flooded with support and people believing sometimes more than I did that I could get through it. And I learned more deeply than ever before that caring about the people you work with and showing it authentically is super important.
And then finally, I've got three grown kids now and they started teaching me from the day I became a mom—I think most parents would say that. But I've always believed that the lessons I learned at home helped me at work and the lessons I learned at work helped me at home.
HL: What will be your top areas of focus this year as chief of staff and chief integration officer for Advocate Health?
Lovin: It's going to be a great year and I'm super excited over this year. When you do a deal, and then you bring organizations together, that first year of integration is when it all starts.
2023 is off to a great start, but let me set a little context. I remember the moment when Gene Woods asked me to be the chief integration officer for what was then Atrium Health. He said to me, something like, 'You're going to love this role, because it combines all the things that you love: strategy, operations, and people.' And he was right, of course, because it does bring those things together. How often do you get to do amazing work like that? When you work to unite large numbers of highly intelligent, highly successful people behind doing something that may be different than the way they did it before, it's not always easy, but I can tell you, it's always possible. I see it at work every day.
For example, one of the things this year and for several years that we'll be very focused on are six pledges that we announced when we were coming together to form one organization. Those six pledges that we announced were:
Advancing health equity
Improving affordability
Building the next generation workforce
Elevating clinical preeminence and safety
Accelerating learning and discovery
Leading environmental sustainability

Those may all sound like common things that everybody's working on, and we all should be working on those. But we came up with specific goals and things that we wanted to do within each area. And what I've realized now is, while that may be a little different twist and approach to integration, it's definitely part of the integration work and it's a huge focus for Advocate Health in 2023.
Now, in the midst of all we're doing to integrate, and find the synergies, find the savings—and I always say, synergy is not just about cuts and cost efficiency, it's about growth and revenue as well. It's about all sorts of value, some that you can measure and some that you can't, but you're better together than what you were before.
The other thing when we look at[ whether] we [are] successful with integration, is a pretty simple measure of asking ourselves constantly this question: Are our communities better off because of us coming together because of our combination? We've got to answer yes to that.
That's the reason for the pledges. That's the reason for all the work. That's the reason for making the organization continually stronger and stronger, and finding things that we can only do because we're together.
HL: What advice do you have for women and others who aspire to work in healthcare and be healthcare leaders?
Lovin: Let me start by saying being a woman in healthcare doesn't define me professionally, but being a leader in healthcare does.
First of all, prove yourself every day because there are no freebies on the way up the ladder.
Secondly, build strong relationships and network, and network, and network some more, because you just never know when you're going to need that contact or that relationship on something that you're working on.
Another thing that comes to mind, for those of us in healthcare, is to stay humbled by the work that we do. This is special work that we get to do every day, and we all take our own health for granted until we don't have it. We're serving people who are in in that position every single day.
A few other things: Embrace differences [and] add unique value, because you are an individual that is only uniquely you, so you can add different and unique value in a room. Figure out what that is and add it. And doing that means that you really know yourself, you know your strengths and your opportunities and things that you need to work on. Lead in a way that's natural for you with that. Genuinely care for your team and your teammates. And I think the last thing I would say is never, ever stop learning and loving change.
"The impact on my leadership style of all these experiences within the same organization has been first and foremost: it's all about the team. I've learned that being a good team leader requires that I be a great team member."
Melanie Blackman is a contributing editor for strategy, marketing, and human resources at HealthLeaders, an HCPro brand.
Photo credit: Charlotte, North Carolina - February 1, 2020: Atrium Health Carolinas Medical Center sign and logo / University of College / Shutterstock.com