The honorees consist of physicians, nurses, pharmacists, finance leaders, attorneys, and administrators, who will convene at the UpNext Exchange in Austin in March 2023.
The future challenges facing the healthcare industry will require leadership that is entrepreneurial, eager to embrace complexity, and above all driven by a renewed sense of purpose. Those qualities sum up the inaugural group of 30 executives who will be featured in the 2023 UpNext program, announced today by HealthLeaders Exchange.
UpNext will celebrate and connect the best and brightest of healthcare's future leaders. Honorees will be invited to convene and share their insights at the UpNext Exchange, March 2-3, 2023, in Austin, Texas.
The UpNext program is meant to energize hospital and health systems to empower leadership development, career advancement and succession planning. Healthcare has seen high rates of executive turnover as the industry recovers from the pandemic and a downturn in provider operating margins.
Still, there are indications that more needs to be done to bolster the next generation of leaders. A 2022 Healthcare Trends Survey released by B.E. Smith and AMN Healthcare in October found that of the more than 600 executives surveyed, only 20% said they were on an advancement track, a number that has declined in recent years.
The 2023 UpNext group represents a diverse skill set, with physicians, nurses, pharmacists, finance leaders, attorneys, and administrators represented. The organizations range from a 35-bed rural community hospital to a large regional health system with more than 80,000 employees.
HealthLeaders Exchange asked a few of the 2023 group their thoughts on the industry's future, their own passion for healthcare and what they hope to gain from the program:
The industry is facing big challenges. Is there one you are specifically looking forward to tackling and why?
"The fundamental conception of the provider-patient relationship has been tested in many ways during the pandemic. My organization works diligently to optimize our patient relationships in an environment with elements such as the workforce, public health restrictions, and societal stressors are ever-changing." -- Eric Crowder, Associate General Counsel, Luminis Health, Annapolis, MD
"The healthcare industry is evolving daily, but staffing shortages are real and will be a big challenge for the industry going forward. As leaders we must work together to continue to find innovative care options for the communities we serve. Developing a mature and nimble digital strategy will be critical to doing more with less, and will help attract the best and brightest staff and clinicians." -- Lauren Hardison, VP of Strategy and Consumerism, UnityPoint Health, Des Moines, IA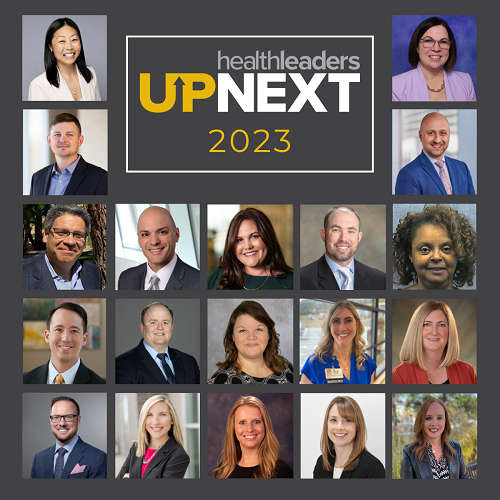 Pictured: Leaders part of the HealthLeaders Exchange UpNext 2023 roster.
Why did you pick healthcare as your calling?
"I can't ever remember not wanting to be a doctor, even as a kid, and I think that the reason I felt so drawn to healthcare was (and remains) a desire to make people feel better. I also love a good puzzle and problem-solving, and healthcare provides the opportunity to apply creative problem-solving whether in direct patient care, or in developing innovative solutions to tackle challenges faced by healthcare systems." -- Jacqueline Naeem, MD, Senior Medical Director, Parkland Health, Dallas, TX
"Healthcare chose me, and I am thankful for that every day. I come from very meager beginnings. My mother raised us three kids on her own, working two to three service jobs just to keep a roof over our heads and a little food on the table. When I turned 17, I enlisted in the United States Marine Corps and left for boot camp. I thought I was going to conquer the world. The Marine Corps taught me that I was not as tough and not as important as I thought I was. The Marine Corps also taught me discipline and that I needed to become educated. After completion of my tour, I returned home and started community college. I had no idea what I wanted to do with my life. I did miss the uniform and joined the National Guard during my freshman year of undergrad. My Marine Corps military occupational specialty did not transfer and I had to be retrained. I asked the recruiter what specialty training they had that would fit into the summer between freshman and sophomore year. He said "combat medic." I became a combat medic and found my love for medicine." -- Corey Cronrath, MD, Executive VP for Care Delivery, Marshfield Clinic, Marshfield, WI
What are you hoping to learn or take from the UpNext program?
"I am looking forward to making new connections share my experiences and learn from theirs as well. I am excited for the program to help continue my personal and professional development and bring those learnings back to my organization to mentor others." -- Mika Taylor, VP, Finance and Optum Partnerships, John Muir Health, Walnut Creek, CA
"I am hoping to learn from the perspectives and experiences from the other participants and interact with leaders whom I may otherwise not have had the opportunity to meet. This is such an exciting program and opportunity. I cannot wait to get started!" -- Jacqueline Naeem, MD
HealthLeaders Exchange UpNext 2023:
Sharla Baenen, COO, Bellin Health, Green Bay, WI
Stephen Bello, Regional Executive Director, Northwell Health, New Hyde Park, NY
Devon Bennett, VP, CNO, Adventist HealthCare, Gaithersburg, MD
Scott Carboy, Director of Finance, NCH Healthcare System, Naples, FL
Amanda Cresswell, VP of Nursing Education, Research and MAGNET, Geisinger, Danville, PA
Corey Cronrath, MD, Executive VP for Care Delivery, Marshfield Clinic Health System, Marshfield, WI
Eric Crowder, Associate General Counsel, Luminis Health, Annapolis, MD
Chris Eberlein, MD, ER Physician, Board of Directors, Gundersen Health System, La Crosse, WI
Michael Ezzie, MD, VP, Acute Care and Specialty Service Line, OhioHealth, Columbus, OH
Laline Guiterrez, Executive Director of Finance, MemorialCare, Fountain Valley, CA
Lauren Hardison, VP of Strategy and Consumerism, UnityPoint Health, Des Moines, IA
Meghan Hooley, AVP Finance, UNC Rex Healthcare, Raleigh, NC
Christine Laprise, VP of Operations, Bristol Health, Bristol, CT
Todd Liu, VP, Accountable Care, General Counsel, Griffin Health, Derby, CT
Anna Lopez, VP and COO, Methodist Le Bonheur Germantown Hospital, Memphis, TN
Zachary (Zack) Menn, MD, MBA, MHA, Director of Value Based Care, Houston Methodist, Houston, TX
Katie Mieure, AVP Pharmacy Services, Atrium Health Wake Forest Baptist, Winston-Salem, NC
Benjamin Milligan, MD, Board Member and ED Chief, Cambridge Health Alliance, Cambridge, MA
Adam Momper, System Leader of Supply Chain, UVA Health, Charlottesville, VA
Christine (Chris) Monk, MSN, RN, NEA-BC, Nursing Practice Administrator, Carilion Clinic, Roanoke, VA
Jacqueline Naeem, MD, Senior Medical Director, Parkland Health and Hospital System, Dallas, TX
Elizabeth Paterson, Director of Radiology and Orthopedics, Cottage Hospital, Woodsville, NH
Ely Perea, Executive Director, Clinical Services, Covenant Health, Lubbock, TX
Jose Romo, VP Operations, HonorHealth Shea Medical Center, HonorHealth, Scottsdale, AZ
Heather Rowenhorst, VP Finance, Asante, Medford, OR
Carolann Stanek, BSN, RN, CAO for Eisenhower's Orthopedic Service Line, Eisenhower Health, Rancho Mirage, CA
Mika Taylor, VP, Finance and Optum Partnerships, John Muir Health, Walnut Creek, CA
Wanda Walker Hodges, DNP, MS, RN, CRNA, Director of Nursing for Perioperative and Surgical Services, University of Maryland Medical Center, Baltimore, MD
AnneMarie West, MBA, BSN, RN, NE-BC, Central Division Executive Director, Clinical and Professional Practice, Providence, Portland, OR
Michele Wingate, CFO, UT Southwestern Medical Group, UT Southwestern Medical Center, Dallas, TX
"The healthcare industry is evolving daily, but staffing shortages are real and will be a big challenge for the industry going forward. As leaders we must work together to continue to find innovative care options for the communities we serve."