A Maryland physician is using speech dictation software to translate notes from a medical encounter into the patient record, reducing his time on a computer and enriching the visit for both him and his patient.
A family physician in Maryland is improving his documentation (and spending less time doing it) with technology that combats physician burnout.
Anuj Bhatnagar, MD, a physician with Frederick Primary Care Associates in Frederick, Maryland, uses Suki medical dictation and AI software to populate athenahealth EHR notes. The platform is endorsed by the American Association of Family Physicians (AAFP).
"The most important thing is you can dictate anywhere you want," such as via a mobile phone, he says.
Suki is one of several technology solutions designed to improve clinician workflows by translating notes into the EHR. He says he's used other platforms in the past, including Dragon with Epic, and likes Suki for its ability to help providers who use English as a second language.
In the year that he has used Suki with athenahealth's EHR, he says, he's been able to facilitate 80 patient encounters per week.
"I dictate for at least 95% of my patients," he says.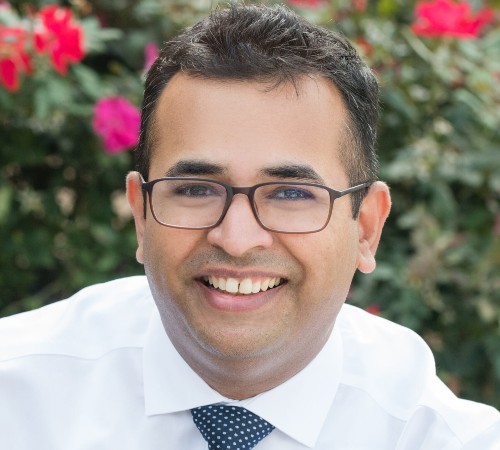 Anuj Bhatnagar, MD. Photo courtesy Frederick Primary Care Associates.
Lately, the industry has begun paying attention to newer conversational AI technology, such as that made by Nuance, which also makes the previous generation of Dragon dictation software. In the newer version, software captures the entire conversation between physician and patient, then generates SOAP notes that are reviewed by both Nuance and the physicians themselves.
These ambient technologies enable clinicians to make more eye contact between with patients, rather than focusing on their computers, thus enriching the experience for both provider and patient. DAX queues up orders it generates for physician approval after the encounter.
He notes that with the approval of most of his patients, he uses patient encounter time to enter those orders, including e-prescriptions and lab tests, with mouse clicks.
"When I'm talking to a patient, I'm ordering as I'm talking," he says. "I never tend to dictate when I'm with a patient. It just takes that attention away."
"It's a mixed bag," he adds, "but I believe in giving the control to the patient, saying, 'Hey, would you mind if I just have my ears and not my eyes towards you?'"
Some patients prefer the eye contact instead, he notes.
He also likes the ability to invoke Suki from within different parts of the medical record, rather than relying upon the software to make sense of where in the medical record parts of the conversation are intended to go.
He says he has also trained Suki to recognize athenahealth smart texts or text macros, pre-populated portions of notes, to expedite note building in his EHR.
"Even with Suki, it took some time," he says. "I think it was learning my accent. But in the last eight months, I realized [Suki] is just catching it pretty easy."
Some macros he built himself, while others are provided by athenanet, an online service for which athenahealth requires a subscription.
The cost of Suki, he says, is more than made up for in the addition of seeing between one and two more additional patients per day.
He notes that dictation works best immediately after the encounter.
"If we saw a patient and we dictate right away, the juiciness of the note is way more than after two or three days," he says. "After the patient leaves, I stay back in the patient room, take my two minutes or so to dictate, [then] come out and see the next patient."
"Honestly speaking, I never bring work home," he adds. "I finish all my full 20 patients a day [on] the same day."
By having those records completed on the same day, the patient's medical record is more quickly up to date, and can be access by another physician if that patient sees someone else.
"My colleague knows what my thought process was," he says. "I think that seals the deal for us in this case."
AAFP has used Suki technology in its Innovation Laboratory to study the adoption, use and impact of an AI assistant for documentation by primary care physicians. According to an AAFP study, participants in family medicine and other primary care specialties saw a 72% reduction in their median documentation time per note. Lab participants reported a calculated time savings of 3.3 hours per week per clinician and improved satisfaction with their workload and in their practice. Full results and analysis are available in a white paper on the pilot.
Phase 2 of the lab studied the adoption and impact of an AI assistant used for visit note completion for 30 days by over 132 family physicians and primary care clinicians. Four out of ten lab participants who tried the AI assistant for documentation adopted the solution, which was assessed based on the number of participants agreeing to purchase the technology, and the impact realized during the lab trial. The impact was assessed through a quantitative assessment of documentation time.
"Honestly speaking, I never bring work home. I finish all my full 20 patients [on] the same day."
Scott Mace is a contributing writer for HealthLeaders.
---
KEY TAKEAWAYS
Healthcare providers are now using speech dictation software to translate their notes right after the patient visit, enabling them to more quickly update the medical record.
Some are also "training" the technology platform to recognize text macros that expedite EHR note building.
A study by the American Association of Family Physicians found a 72% reduction in median documentation time per note using this technology.