Closing gaps in care requires knowing just when a technology-powered nudge will help, rather than cause more stress.
At Ardent Health Services, physician burnout is a constant concern, and an issue that technology can address. The challenge for the Nashville-based healthcare organization, formerly known as the Behavioral Healthcare Corporation, is to find the right technology and not make things worse.
To thread that delicate needle, they're using a technology, developed in part by physicians, that identifies gaps in care and cost considerations.
Ardent deployed the IllumiCare Smart Ribbon in June and has found immediate benefits in a metric that often puts "lots of pressure" on its hospitalists, says chief medical officer FJ Campbell.
"The classic metric is discharges before 11 a.m.," Campbell says. "If you're moving your med/surg patients out by 11 a.m., then you're able to transfer your patients from your ICU to your med/surg units. We deployed IllumiCare, and discharges by 11 a.m. went up over 175%."
But reaching this level of improvement involves much more than just plopping the latest technology in front of hospitalists, Campbell says.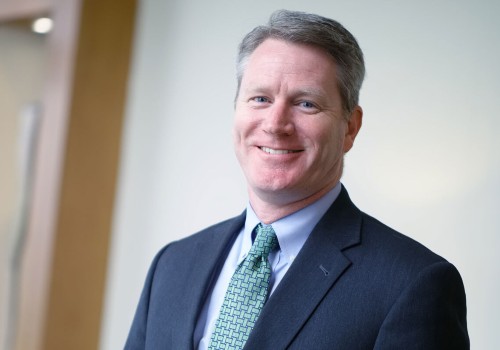 FJ Campbell, chief medical officer of Ardent Health Services. Photo courtesy Ardent Health Services.
Ever since he attended medical school, Campbell has been intrigued by the inefficiencies evident in the hospital setting.
"When you're a surgery resident, and you're in the hospital 100 to 110 hours a week, you take inefficiency personally," he says.
After passing his boards, Campbell pursued an MBA and entered hospital administration, initially as director of medical operations at Virtua Health. A stint at Centennial Medical Center, a flagship hospital of HCA, reinforced a notion to bring clinicians into operational decisions, one that ultimately informed his interest in tools such as Smart Ribbon.
"People who understand workflow make better products," he says. "And good workflows lead to good clinical outcomes, which lead to good financial outcomes."
Since then, Campbell says he has sought out technology defined in part by clinicians themselves, since they're the ones who ultimately have to live with that technology.
After HCA, Campbell became an equity partner and chief medical officer at an urgent care company called CareSpot. He also served as vice president of clinical services at Community Health Systems before moving to Ardent.
At Ardent Health Services, Campbell is responsible for all clinical service lines and initiatives, including hitting the health system's CMS metrics and Leapfrog scores. Nursing and case management services also report to him.
"The case management activity has been concentrating on moving patients through the continuum of care," he says. "The nursing activity has been around how do we leverage technology to overcome the staffing challenges that we have?"
Campbell also helps identify opportunities to start delivering care more effectively outside of the hospitals' four walls. That focus on workflow was intensified by the pandemic.
"We had to be conscious and cognizant of workflow," he says. "Like, how are we going to separate respiratory illness from non-respiratory illness? How are we going to turn a med/surg unit into a step-down unit? How are we going to make negative pressure rooms widely distributed now?"
Pandemic time highlighted the number of clinicians who didn't have a clear enough understanding of operations and their challenges, Campbell says.
"You had many operators with no clinical background, who had to understand clinical medicine a lot more to really appreciate how they could problem solve," he says. "COVID created a nexus and a need for it between operators and clinicians. We're going to have to be doing more to leverage technology to achieve our clinical and operational outcomes."
Clinicians want to be well-informed, but any hints or nudges from technology must be delivered in a manner that is not disruptive to their workflow, Campbell says.
"It really starts getting back to [technology] made by end-users for end-users," he says. Best practice advisories from EHR vendors such as Epic must be accurate, and IllumiCare, by populating the Epic App Orchard with its own apps, adds more important ways to inform clinicians without being intrusive.
"If you're going to give them something that is going to take their attention away from the next lab to track down or the next X-ray value to assess, your clinical decision support content had better be spot on, easy to access, easy to understand, and therefore easy to execute on," Campbell says. "Otherwise, forget it; you will be blown off in a New York minute."
Executives should focus even more on workflow as the successful path to technology adoption, he says.
"I'm going to bring you a tool that's going to make it easier for you to execute on your job," he says. "You're either going to see that very quickly, or if you won't, you're going to help position me to make modifications with the other clinical partners that we have."
"People who understand workflow make better products. And good workflows lead to good clinical outcomes, which lead to good financial outcomes."
Scott Mace is a contributing writer for HealthLeaders.
---
KEY TAKEAWAYS
Ardent Health's use of Smart Ribbon technology has boosted med/surg discharges before 11 a.m. more than 175% since May.
Chief Medical Officer FJ Campbell says clinicians must be involved in the development of new technology to ensure successful adoption.
The pandemic accelerated clinicians' focus on operations and operational executives' focus on clinical imperatives.