Scripps Health has physician operating executives at the health system's five hospitals and about 80 medical directors.
Physician operating executives and medical directors are crucial players in healthcare administration at Scripps Health, says Ghazala Sharieff, MD, MBA, corporate senior vice president of hospital operations and chief medical officer at the San Diego-based health system.
Sharieff has held her current role since January 2020. Her previous experience includes serving as Scripps' chief experience officer and emergency department division director at Rady Children's Hospital.
HealthLeaders recently talked with Sharieff about a range of issues, including addressing healthcare worker burnout at Scripps, her learnings from being a command center leader during the coronavirus pandemic, and the primary elements of a positive patient experience. The following transcript of that conversation has been edited for brevity and clarity.
HealthLeaders: At Scripps, you serve as CMO for inpatient care and Anil Keswani serves as CMO for outpatient care. What are the benefits of splitting the CMO role?
Ghazala Sharieff: Our president and CEO, Chris Van Gorder, is incredible. He always thinks ahead of the curve. He split the role in January 2020, right before COVID hit. So, I was the coincident commander of our COVID response in addition to working on quality, patient experience, and all the regular CMO duties. Splitting the CMO role into two pieces has been crucial. Given what we went through over the past few years, particularly with patient experience and quality, it would have been difficult for me if I was manning everything. We have about 30 clinics and five hospitals—it would have been too much. With 17,000 employees, 3,000 physicians, and 2,000 volunteers, having one person man all of that would have been extremely difficult given the challenges over the past three years.
Dr. Keswani and I work very well together. When we started, we were unsure how we were going to work together—we each had a column and some areas that overlapped like a Venn diagram. Now, it is not like a mine-and-yours situation. The Venn diagram is getting bigger and bigger because we realize there is a spectrum of responsibilities. Most of the things that you do in inpatient care affect ambulatory care because you must have a handoff for patients who have been admitted and discharged, then need care on the ambulatory side.
So, it is working very well, and I highly recommend this structure for other organizations as large as we are.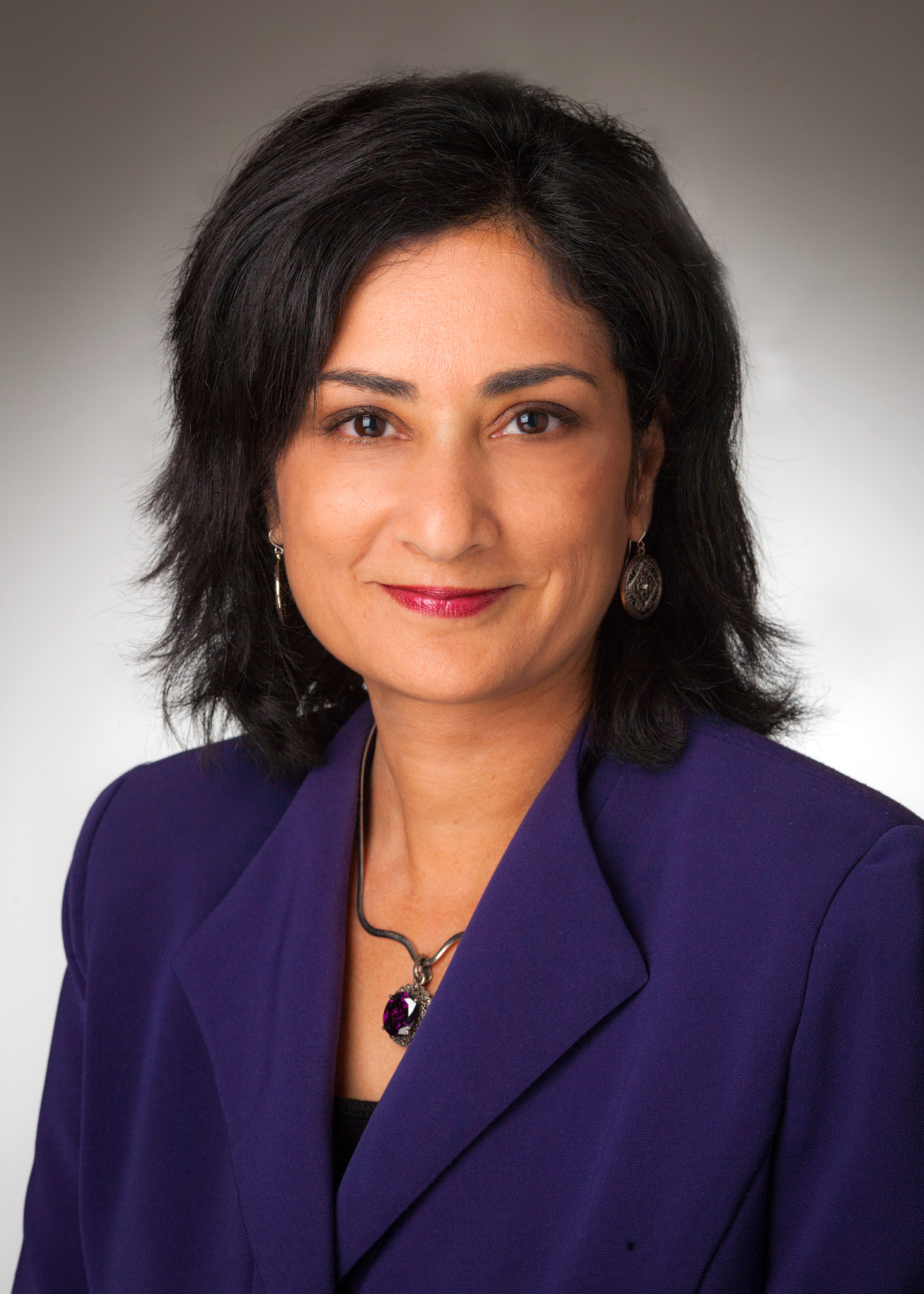 Ghazala Sharieff, , MD, MBA, corporate senior vice president of hospital operations and chief medical officer at Scripps Health. Photo courtesy of Scripps Health.
HL: What are the main ways you are addressing healthcare worker burnout at Scripps?
Sharieff: During COVID, we launched the RISE program—Resilience in Stressful Events. This is a peer-to-peer responder program, and it has a physician component. Physicians do not like to speak with others about their concerns or crises. When they have another physician to talk to, that is a safe place, and it does not have any stigma attached to it.
We have employee assistance with psychologists. So, if a healthcare worker feels they need more than a peer responder, we have a psychology team that can meet with them.
We also have some simple things such as one-on-one coaching. And we have reminders about mental health such as a webpage for physicians with resources that are available to them.
It is important to have open communication about the burnout that many of us are feeling.
HL: What role do physicians play in healthcare organization administration at Scripps?
Sharieff: We have an amazing infrastructure. One of the first things our CEO asked me to do on the inpatient side when I became chief medical officer was to align my physicians. We have five physician operating executives—one at each of our hospitals. They are dyad partners with chief operating executives because you need physician leadership as well as administrator leadership to run daily operations.
We also have about 80 medical directors across the health system. The medical directors report to the physician operating executives, who report to me. So, we have clear accountability for the metrics that we are trying to improve with this infrastructure. Physicians have a huge role not just in patient experience but also in daily operations. That is our secret sauce.
HL: In general, when you look at the healthcare system, do you think physicians are becoming more involved in healthcare organization administration?
Sharieff: In general, there are a lot more physicians going into administration because they want to make a difference in their organizations. It is also because of the financial climate we are facing, with hospitals struggling with finances. We need physician leadership to help us prioritize. Everybody wants new equipment—there is so much new technology coming out that physicians want to have, but we need them to help us prioritize. What do we need today? Is new technology truly more effective or is it just something you want to try?
You are going to see much more physician involvement in hospital operations as well as on the ambulatory side.
HL: You co-led command center operations for Scripps during the coronavirus pandemic. What were your primary learnings from this experience?
Sharieff: I learned about situational leadership. There was a sense of panic. Among physicians, there was sincere concern not only about their patients but also about themselves and their families. Some of them were not going home because they were afraid they were going to bring the virus home to their families. They were living in hotels. We had to be more directive with our leadership. We would say, "This is the path we are going to take." Eventually, we were able to be more collaborative—bringing in more physicians and staff to help us design our policies. But at first, we had to take control of the situation, which was important. Somebody had to be that voice.
What I have learned is there is a cycle to leadership in a crisis.
We have also learned that we can pivot quickly when we need to. We learned that we could be organized, pivot quickly, and try things that are different. One example is our Sprint Teams—we identify a problem then put a team around it so we can move quickly. With the Sprint Teams, you may not have a solution totally mapped out. Nothing is going to be perfect when you roll it out, but you must start an initiative and pilot it, then you make adjustments as you go.
HL: You previously served as chief experience officer at Scripps. What are the primary elements of a positive patient experience in the inpatient setting?
Sharieff: The key drivers are nursing communication, physician communication, and the environment of the hospital. Patients want to be heard.
We have a unique patient experience effort that we call The One Thing Different campaign. What that means is that I do not want to script anybody. It is horrible when everybody says the same thing because the patients know that somebody has told them to ask questions. Scripting your staff does not work. The One Thing Different campaign started with me thinking about what I can do differently. We ask patients about their greatest concern. It has changed my practice and it has changed the practice of many of our staff as well.
HL: You have a clinical background in emergency medicine. How has your clinical background helped you to serve in leadership roles such as CMO?
Sharieff: For emergency physicians, situational leadership is important. When you have a critical patient come into the emergency department, you must be in charge. One person must be the captain. So, when we have rocky times or there is uncertainty, it is easy for me to slip into that role as CMO.
There is also a lot of camaraderie in the emergency department. After a night shift with the nurses, we would all go out for breakfast. There is that side of leadership as well. You cannot always be directive—you have got to be seen as collaborative.
You must roll up your sleeves as an emergency physician and work with your colleagues. There are leaders who I have seen who do not get in the field with their people, and that does not resonate with me. If my staff is doing something, I like to be there with them. That is the ER doctor in me, and it has affected how I am as a leader.
Emergency physicians need to be transparent with their colleagues and share the "why" behind what they are doing. I tell my staff, "Here is what we are doing for this patient. Here is why I am ordering tests." That naturally translated over to my CMO role. I explain to people what we are doing. It cannot be bossing people around. You must explain the process and why we are going a certain route.
Related: The Exec: Emergency Medicine Great Background for Physician Leadership
Christopher Cheney is the senior clinical care​ editor at HealthLeaders.
---
KEY TAKEAWAYS
Scripps Health has split the chief medical officer role into an inpatient executive and an outpatient executive.
The pivotal elements of a positive patient experience in the inpatient setting are nursing communication, physician communication, and the environment of the hospital.
At Scripps Health, the primary learnings from the coronavirus pandemic include the importance of situational leadership and realizing the ability to pivot quickly.