'Mandated ratios don't address systemic problems or the changes in the healthcare delivery system,' she says.
As a handful of state legislatures have enacted or are considering mandating nurse-to-patient staffing ratios, the American Organization of Nursing Leadership (AONL) recently released a strongly worded statement contending that government mandates are not the answer to nurse staffing.
"Staffing is a complex decision based on the experience and clinical expertise of the nurse, care team, resources, and patient needs," AONL said in a prepared statement. "Organizational leaders, nurse managers, and direct care nurses, not policymakers, should collaboratively align staffing with patient needs."
Robyn Begley, DNP, RN, NEA-BC, FAAN, the CEO of AONL, as well as chief nursing officer, senior vice president of workforce for the American Hospital Association (AHA), spoke with HealthLeaders for a bit of a deeper look at the catalyst for staffing mandates and why AONL says they're not a good idea.
This transcript has been lightly edited for brevity and clarity.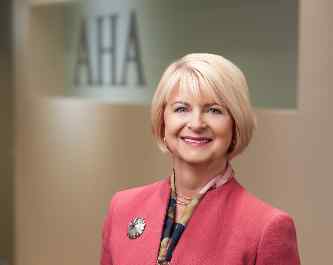 Robyn Begley, CEO of AONL, and CNO, SVP of workforce of AHA / Photo courtesy of AONL / AHA
HealthLeaders: Why are state governments getting involved in staffing legislation?
Robyn Begley: It's hard for me to speculate on the motive at the state level. AONL and AHA focus on federal legislation; we don't engage in any state level advocacy work, but I can say that there's growing evidence to support that federal policymakers as well as state lawmakers do appreciate that we have a healthcare workforce crisis in this country, and everyone is looking at ways to address this because healthcare is critical to our nation.
It is part of our infrastructure and our lawmakers are understanding how important this is to our country. AHA and AONL are working with the policymakers at the federal level, for sure.
HL: Why should policymakers not have a hand in nurse staffing levels?
Begley: Staffing ratios and that model of care delivery really is becoming antiquated. The process of a nurse-patient ratio is informed by an older care model and does not align with healthcare delivery today. In particular, it does not consider advanced capabilities in supportive technology, or what we're seeing across the country right now, which are interprofessional team-based care models.
The way of determining the staffing ratio is a very static method. It's a tool that is at a single point in time. At the beginning of a 12-hour shift, for example, the activity, the patients, their conditions, and the staffing of a floor can look very different than what's required throughout that 12-hour period. That nurse-patient ratio fails to acknowledge that care needs can change on a dime in a hospital. Although staffing is critically important—and I want to emphasize that we need enough staff—more licensed nurses does not necessarily translate into quality care outcomes.
One of those unintended consequences may be that you're creating less access to care for patients. For example, if a hospital or health system has to close several units because they don't have the prescribed number of nurses to care for patients who would have been in those beds, patients are unable to make it past the emergency department, or they may be transferred to other facilities that that are not close to their home. So, those are serious concerns that need to be evaluated before something as dramatic as a mandatory nurse-patient ratio is implemented.
HL: Why is it crucial to keep staffing in the hands of nurses?
Begley: I've been a nurse for a long time—46 years. At the beginning when I became a nurse in the 1970s, nursing was establishing itself as an independent profession, so I believe that as a professional, nurses have the responsibility to determine adequate staffing to take care of their patients and their community.
It may seem expedient right now to impose a mandated staffing ratio law, but it's short-sighted because it takes accountability and professional judgment out of the equation. It belongs in the hands of nurses.
HL: In January 2004, California became the first and only state to establish minimum RN-to-patient ratios in every hospital unit. Why do you think no other states have gone the same direction as California?
Begley: It's hard to speculate but despite the pros and cons, people will get on both sides of offering evidence that it's been successful versus not successful. I don't know that there's been any clear-cut studies or outcomes that have shown that, "Oh, yes, this is absolutely the way to go and what we need to do," and it's been almost 20 years.
HL: Nurses in health systems and hospitals across the country, where nurse leaders handle staffing, are striking for safer staffing. Can you address that?
Begley: My comments are based on the whole, and not specifically to any particular hospital. As we mentioned earlier, healthcare is facing dramatic challenges, especially nursing. These challenges existed prior to the pandemic. We knew the vast number of baby boomer nurses would begin to retire and we were concerned and working toward pipeline issues and also working on burnout issues, which existed prior to the pandemic. But when the pandemic hit, it just ignited the fire and exposed things that had been underlying issues for a number of years.
Our caregivers are exhausted. We minimize the effects of the longitudinal nature of the effects of the pandemic. The American Nurses Foundation has done studies and AONL has done longitudinal studies and, well, nurse leaders and nurses are tired. They've had demands placed on them for the past several years, in addition to their family responsibilities, whether it's their children at home from school or their elders that need care. Although we are working on diversifying the nursing workforce, approximately 90% of our workforce is women, so that provides another challenge because we know that women have more responsibilities that are outside of the workplace.
Another thing is when we anticipate a temporary event such as gearing up for a snowstorm or a surge in census, we rise to the challenge, and we have lots of short-term actions to deal with increases in patients or lack of staffing. That is something we're very accustomed to dealing with. What we have not been as well-versed at, perhaps, was the longitudinal nature of the pandemic, and the fact that it was lasting for years. This has really taxed our entire system, so it's a long-term effort to be able to address these workforce challenges.
However, especially the last six months, hospitals, health systems, and nursing leaders that I interact with every day, are working on solutions for the now, near, and far. What I mean is, "now" are actions and activities that are going to have impact right away. With the "near" and "far," the actions will start right now but might not have impact for a longer time.
For example, to recruit a diverse nursing workforce—in gender, in ethnicity, in race, and for nurses drawn to different specialty areas—it means having exposure to seventh- and eighth-graders and having them experience what healthcare is like. That's why we're partnering with schools as well as looking at a pipeline where people may come in as food service or environmental service workers, but if they have the ability and drive, we want to see them as future nurses. Our health systems are working on actively supporting those folks.
So, mandated ratios don't address systemic problems or the changes in the healthcare delivery system, and if there was regulation around it, it really stifles creativity and innovation for the future.
"It may seem expedient right now to impose a mandated staffing ratio law, but it's short-sighted because it takes accountability and professional judgment out of the equation. It belongs in the hands of nurses."
Carol Davis is the Nursing Editor at HealthLeaders, an HCPro brand.
---
KEY TAKEAWAYS
The staffing ratio model of care delivery is becoming antiquated.
Mandated staffing takes accountability and professional judgment out of the equation.
Staffing regulation stifles creativity and innovation for the future.