"Probably every three to five years, Healthfirst has felt like a different company. As you grow, you break a certain size scale."
Editor's note: This article appears in the July-September 2023 edition of HealthLeaders magazine.
Pat Wang doesn't do many interviews. She doesn't even have a LinkedIn profile. The president and CEO of Healthfirst is a modest leader with plenty of reasons not to be. Wang has guided Healthfirst from its inception through its transformation into the largest not-for-profit health insurer in New York State.
This period spans 30 years: the 15 she has been president and CEO and the 15 that she spent shaping Healthfirst's unique model before she ever joined the company.
In 1993—as then-SVP of finance and managed care at the Greater New York Hospital Association—Wang helped create Healthfirst with a consortium of area hospitals. This made Healthfirst one of the nation's first payer-provider organizations—long before the industry recognized integration as a hallmark of value-based care.
Wang—who was recently appointed to the Board of Governors of the Federal Reserve Bank of New York—reflects on this history.
"If you had told me 15 years ago that this is where I'd be, and moreover that the plan would be what it has become, I would never have imagined it in a million years."
Scaling and rescaling
Throughout Wang's tenure, Healthfirst has changed constantly.
"Probably every three to five years, Healthfirst has felt like a different company. As you grow, you break a certain size scale. We're always entering new phases of discovery and achievement."
One of those phases was the pandemic, during which Healthfirst added 380,000 members—a near 27% increase.
"That is bigger than the plan was when I got here," says Wang. "I think I still have a little bit of an underdog mentality when it comes to Healthfirst. But I won't say anymore that we're The Little Engine that Could."
Today, Healthfirst boasts 1.8 million members, making it New York state's largest not-for-profit health insurance company. Nearly 1.5 million of these are Medicaid members. Healthfirst's other lines of business include Medicare Advantage as well as dual eligible, long-term care, qualified health, essential, and individual and small group plans.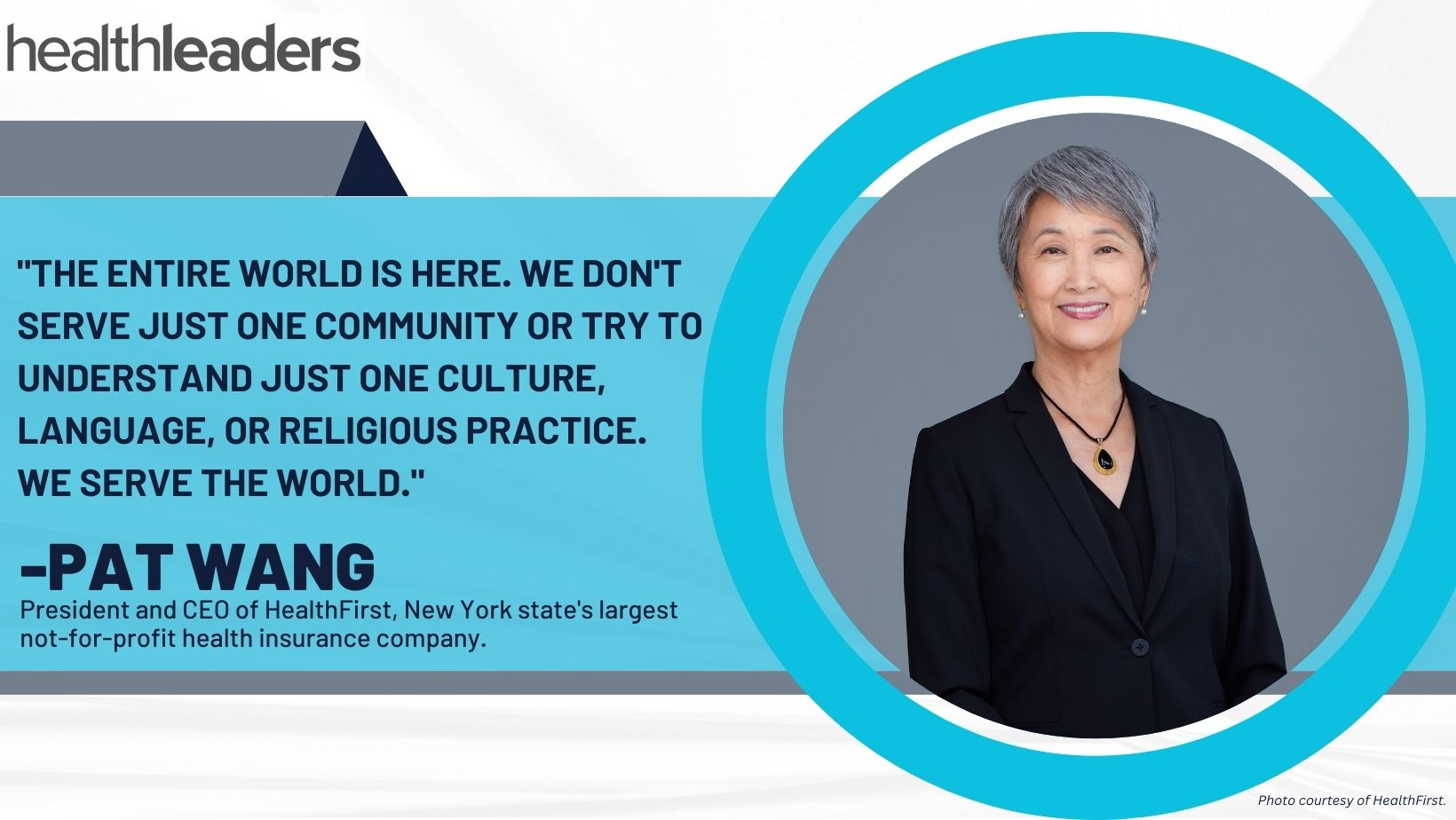 At the center of the epicenter: Healthfirst during the pandemic
New York City was at the global epicenter of COVID-19. A map from the Endangered Language Alliance shows the disproportionate impact of the coronavirus on the city's most multilingual neighborhoods.
"I've impressed on my team the incredible job they have done: absorbing and serving all of these members at such a difficult time, addressing everything that was revealed during the pandemic like health equity and access to care. I couldn't be prouder of them."
The Healthfirst response included new digital tools.
"I think the pandemic accelerated the digital revolution in healthcare," adds Wang. "People were stuck in their homes with COVID, with children who needed to apply for health insurance. In a matter of just a couple of weeks, we stood up digital offices and developed a completely text-based approach to helping people apply for insurance and transmit their documents in a way that was compliant."
"My team is extremely imaginative and innovative. We've created capabilities we didn't have three years ago."
She is quick to note that those capabilities are "always through the lens of the market we serve, in a value-based environment, where we view our role as helping to coordinate and connect all parts of the delivery system that touch our members' healthcare."
"We serve the world"
In Brooklyn's DUMBO district, where the borough holds it weekly flea market, there is another Endangered Language Alliance map. It plots—in colors and in words—650 of the 800 languages spoken in New York City's five boroughs.
This is just a portion of Healthfirst's service area, which includes all of NYC plus Long Island and the mid-Hudson Valley. Healthfirst members speak 76 languages and dialects.
"The entire world is here. We don't serve just one community or try to understand just one culture, language, or religious practice. We serve the world."
Wang adds: "Our enterprise analytics team displayed something in an internal meeting that just blew my mind. Our largest population center—The Bronx, Manhattan, Queens and Brooklyn, which represents just four of the counties we serve—is home to the same population as Philadelphia, LA proper, and Chicago combined."
"We are 2.6 times as dense in terms of population for geographic area ratio as those three cities. And it's the only geography where each of the four major racial and ethnic groups make up at least 10% of the population."
"Our local market is millions of people. That is a local market unlike any other."
A leader for New York City, the state and the nation
Wang's background informs her own hyperlocal approach and that of Healthfirst.
"We are born and bred in New York City, and I've lived here for decades now. I love the city and just think it's the most amazing place in the world."
In addition to being a long-time New Yorker, Wang is also one of the few CEOs—in any industry—who is female and Asian-American. In 2022, she was named on a Top Diversity Leaders List.
Said another way, Wang is simply a leader—among leaders, across the nation and New York state, and in multiple capacities.
She serves on the boards of directors of AHIP and the New York Health Plan Association, and chairs the state's Public Health Plan Coalition. Beyond healthcare, Wang was appointed to the Board of Governors of the Federal Reserve Bank of New York in January 2023.
There is more Wang wants to accomplish, including advancing the role of plans like Healthfirst.
"Regional not-for-profit plans are shrinking in number around the country. I really believe that healthcare is local, and that not-for-profit healthcare is a good thing."
And as for her own leadership bucket list?
"At the time that I stopped doing this job, I would really want to feel that Healthfirst has secured its place in the market and in the community. I would want Healthfirst to continue doing what it's doing while changing and adapting what we've have introduced: value-based care, collaboration across the delivery system, and trust from the community. It's so important that that will prevail."
Laura Beerman is a contributing writer for HealthLeaders.
---
KEY TAKEAWAYS
Pat Wang has led 5x enrollment growth as president and CEO of Healthfirst, including a nearly 27% membership spike during the pandemic.
A multi-faceted leader who rarely does interviews, Wang details Healthfirst's unique hyperlocal model—one that serves millions of people who speak some 80 languages and dialects.
In this exclusive with HealthLeaders, Wang details how Healthfirst has scaled the components of an effective delivery system, and what remains on her leadership bucket list.