At UW Health, the process to address medical errors is not punitive.
When medical errors occur, health systems must learn from the experience and conduct root cause analyses, says Aimee Becker, MD, MBA, chief medical officer of UW Health.
Becker has been CMO of the Madison, Wisconsin-based health system since August 2018. Prior to her role as CMO, she served as the interim chair for the UW School of Medicine and Public Health Department of Anesthesiology. Previously, she served as chief of anesthesia and director of operating rooms at the William S. Middleton Memorial Veterans Hospital in Madison.
HealthLeaders recently talked with Becker about a range of topics, including the challenges of serving as CMO at UW Health, clinical care quality and patient safety, and the role of physicians in healthcare administration at UW Health. The following transcript of that conversation has been edited for brevity and clarity.
HealthLeaders: What are the primary challenges of serving as CMO of UW Health?
Aimee Becker: Broadly speaking, the challenges we face at UW Health are similar to other healthcare organizations. We are navigating financial headwinds and we are feeling challenges with inflationary pressures. Additionally, workforce shortages pose a significant challenge, particularly as we are still feeling the impact of the coronavirus pandemic.
Addressing the staffing shortages is one of our highest priorities, and linked to this is the well-being of our workforce. This is so critical. Our healthcare teams have had to weather a lot of stress and changes stemming from the pandemic and supporting them has been and continues to be a top priority. As an organization, we recognize the challenges our care teams face, and we want to ensure that we are supporting them not only through staffing but also across the full spectrum. When considering the challenges we face as an organization, we must start with the well-being of the individuals that make it work.
HL: How are you supporting the well-being of your staff?
Becker: It is through multiple measures and many different levels. We have a team dedicated to well-being across our organization. We have a strong physician partner—our chief wellness officer, who works specifically on the well-being of our physicians and advanced practice providers as well as our residents and fellows.
Through the pandemic, we developed several resources. At baseline, our leaders are very engaged with our frontline teams, and they spend a lot of time rounding to hear from and learn from our frontline teams. We want to know what their issues and barriers are and try to mitigate those. We developed a robust, cross-functional multidisciplinary team for peer support. We have employee well-being resources across an entire portfolio of different options, whether that is peer support, confidential mental health services, or our response to stressful incidents. It is a multipronged approach to well-being.
HL: You are responsible for clinical care quality and patient safety at UW Health. What are the primary elements of clinical care quality?
Becker: We are fortunate in that we have a strong quality and safety team that reports up through our chief quality officer, who is a physician. Associated with this, we have robust structures and processes to support our goal of achieving remarkable healthcare outcomes. All of this is tied to our operational framework. So, our management triads and dyads are key to engaging our frontline team members.
Quality and safety are part of the work that we do every day, and each one of us is responsible for quality and safety, and we are accountable to our patients and each other. So, while we have excellent patient care outcomes, we are dedicated to continuous improvement. We have set expectations for our behaviors at work, and we empower our frontline teams to lead improvement work, stop the line when necessary, and hold each other accountable.
HL: What are some of the primary mechanisms for ensuring patient safety at UW Health?
Becker: How we interact with each other is important. We know that respectful work environments are safe patient care environments. How we operate day to day and communicate is key. We have a real-time management structure, where we huddle with our teams to ensure patient safety and to address issues. We have quality improvement initiatives that are always evolving to make sure that we are targeting the patient care needs of today.
HL: How do you handle medical errors?
Becker: It is important to have a just culture. As an organization, we are going down that path formally. You must have a process around evaluating errors that is non-punitive, and you must be able to learn from your mistakes and identify the root causes. We have a robust root cause analysis structure that is aimed at understanding all of the root causes. In addition to that, we have the infrastructure to address and mitigate medical errors.
We have a reporting system for medical errors, near misses, and any safety concerns. This is a key ingredient of our quality and safety portfolio. Anyone can put a concern into the reporting system.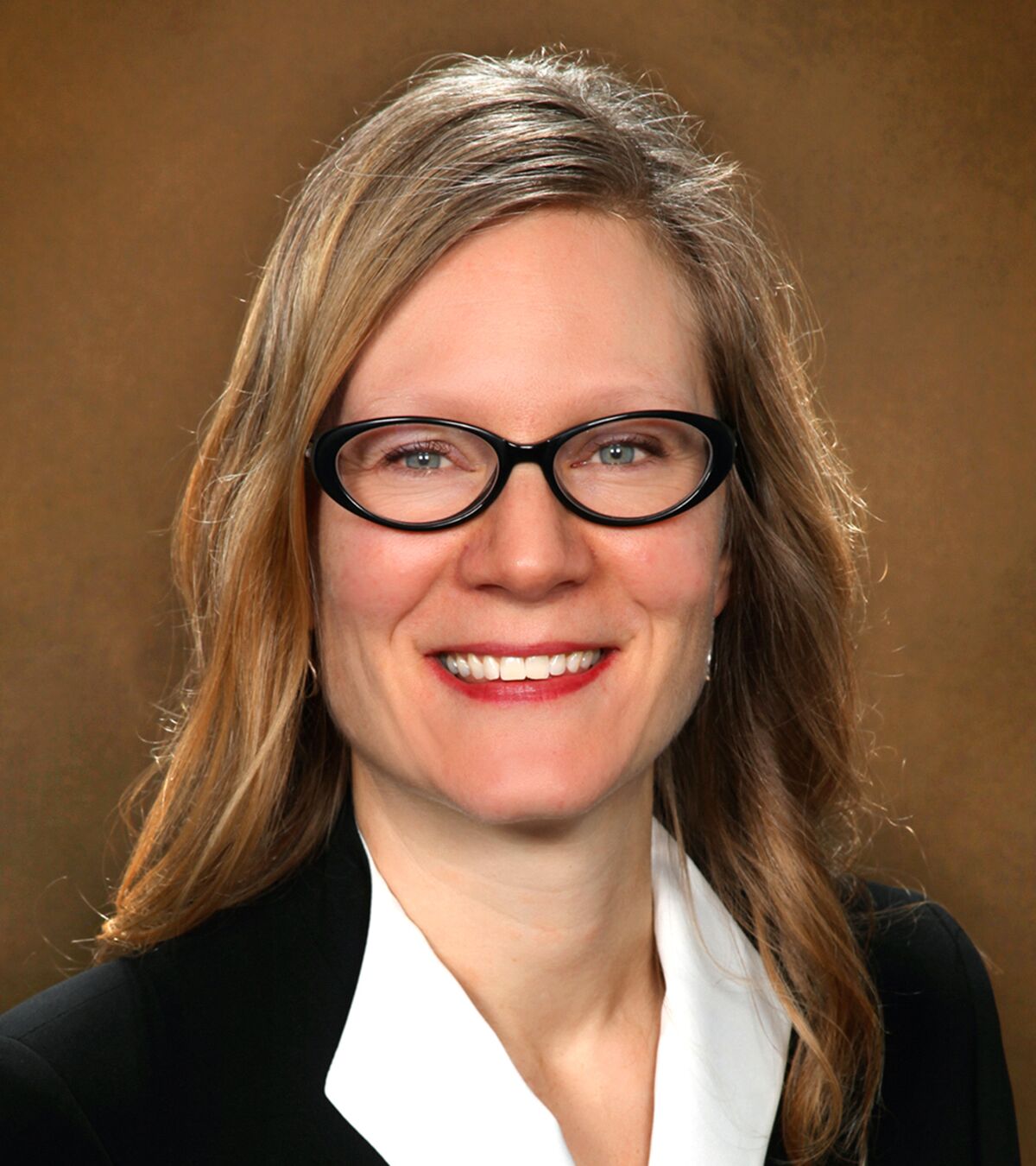 Aimee Becker, MD, MBA, chief medical officer of UW Health. Photo courtesy of UW Health.
HL: What role do clinicians play in healthcare administration at UW Health?
Becker: At UW Health, physicians play a significant role in healthcare administration. We have physicians engaged in healthcare administration at many levels. To start, we have a physician CEO. For our inpatient operations, we have a triad model for our hospital leadership that includes a physician leader, a nursing leader, and an administrative leader. For our ambulatory operations, we have dyad partnerships that include a physician and either an administrator or nurse leader, depending on the location. The aim of the collaboration is not for physicians to take over the roles of our administrative and nursing leader partners—the intent is to support operations and patient care with physician input.
HL: In general, do you think physicians are playing a greater role in healthcare organization administration?
Becker: In short, yes. I hope we have shifted from the past, when physicians viewed hospital administration separately as "the suits." Certainly, physicians provide valuable administrative leadership in healthcare.
Very often, our physician leaders continue to take care of patients. That lends a lot of credibility to the broader patient care team, and it gives physician leaders a unique perspective when they are directly engaged in patient care.
HL: You led clinical care at UW Health during the pandemic. What were your primary learnings from this experience?
Becker: The silver lining with all the COVID challenges is that we learned so much. First, as a healthcare organization, we learned that we could weather a storm by being in it together. The tremendous collaboration across all aspects of the organization was inspiring during very tough times. We also learned that despite being a large integrated academic health system we can be flexible and nimble when the situation calls for it. This will continue to be important as we face ongoing headwinds.
We also learned the value of telemedicine. Our patients and our care teams appreciate this, and we learned the value of working from home. The flexibility has been important for our workforce. Having the flexibility to work from home has improved the work-life balance. Working from home is not for everybody, but the fact that the option exists when the work is applicable and our team members can have a say in that is empowering.
HL: You have a clinical background in anesthesiology. How has this background helped prepare you to serve in the CMO role?
Becker: For me, patient care is my first love. I love being an anesthesiologist, which has taught me a lot of things. First, getting to care for patients is a privilege, and with that privilege comes obligations and responsibilities, including continual improvement. Being an anesthesiologist has taught me that patient care is a team sport, and that each one of us on the team wants to be valued and respected for our unique contributions to patient care.
Working as an anesthesiologist has also taught me that there is no room for "us versus them" in patient care. In healthcare, there are many opportunities for us-versus-them situations, and we strive to mitigate that. For example, as we think about the importance of being valued and respected for the unique contributions to patient care, emergency department care is different from inpatient care, and each of those are unique and valuable, but neither is better than the other or more important than the other.
You need to value and respect everyone's contributions; but more broadly, we need to promote that we are all in this together for patient care. There is no us-versus-them scenario that I can think of that improves patient care.
Related: The Exec: Mass General Brigham CMO Focused on Patient Capacity
Christopher Cheney is the senior clinical care​ editor at HealthLeaders.
---
KEY TAKEAWAYS
Addressing staffing shortages and the well-being of the workforce are among the highest priorities at UW Health.
At UW Health, physicians serve on triad and dyad management teams.
During the coronavirus pandemic, one of the primary learnings at UW Health has been that the organization can be flexible and nimble despite being a large integrated academic health system.